National Numbers are always pleased to hear from customers who are looking to sell their number plates. Our free instant valuation service is excellent at calculating meanings, estimating prices and is our customers' first port of call when they look to sell their registration.
But some registrations are a little bit special - like this stunning Lamborghini Gallardo number plate.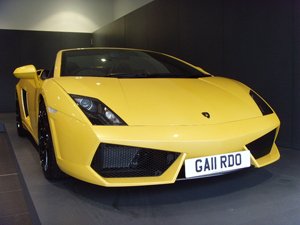 We were delighted to receive photos of this Lamborghini Gallardo from a National Numbers customer, complete with the 'Gallardo' private number plates.
The car demonstrates a perfect example of how a personalised registration can add to the appeal of a vehicle.
GA11 RDO is for sale exclusively through National Numbers - and is a particularly good example of one of the thousands of 11 series registrations we have listed on our website.
To purchase the registration, contact National Numbers on 01642 36 37 38.
Alternatively search for other 11 series personalised number plates, or try a number plate search on our site for more ideas.
More information:
View GA11 RDO on our website
National Numbers 11 series registrations