DVLA's next Live Auction will be the first to feature number plates from Northern Ireland.
Among those being offered is BAZ 84 and IFZ 9, with reserves of £400 and £500 respectively.
The auction will take place at Nottingham Belfry Hotel over three days starting Wednesday 25th February.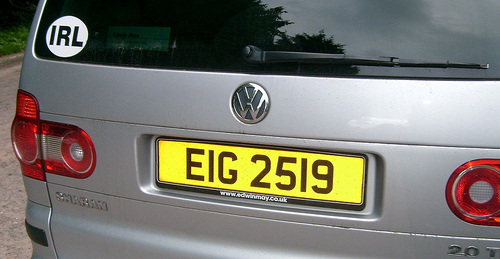 Irish Number Plates
Number plates from Northern Ireland have the letters "I" and/or "Z".
Irish number plates were previously issued by local DVA offices in Northern Ireland.
As of July 21st, all personalise number plate queries were passed from the main DVA office in Coleraine to DVLA Swansea.
This was part of the continued centralisation effort by the Driver and Vehicle Licensing Agency, which included the introduction of various digital platforms and the controversial scrapping of the tax disc.
Before this customers wanting a private number plate from Northern Ireland needed to do what was called a double transfer - this meant the registration would be first registered to an Irish vehicle before it could transferred to their vehicle. The same would happen in reverse for customers in Northern Ireland who wanted a DVLA registration.
The change in the transfer process means that it is a lot easier and cheaper for Northern Ireland drivers to buy and transfer an English registration, and vice versa.
DVLA Auction
The February auction will be the first Live Auction of the year.
Sometimes referred to as "Classic" auctions, Live Auctions sees the DVLA put several rare and valuable plates up for bid for the first time.
Registration marks that have never been issued, such as many of the suffix styles number plates and the withheld regs from the most recent 15 release.
There are 1,600 number plates available in the February auction, including numerous Irish number plates.
Reserves for the plates range from £250.
25 O is the most expensive plate every sold at auction, selling at £400,000.