This month we're talking about classic cars (or "historic" cars if the DVLA ask). From experts to laypeople, a classic car is likely to turns heads on the street, motorways, and of course at classic car shows. But let's try and work out what makes a car classic and take a look at the pros and cons of adding vintage cars to your investment portfolio.
How To Identify A Classic Car
According to HMRC, vehicles need to be over 15 years old to be considered classics. But don't get too excited about your 2002 Corsa on the drive, as the vehicle also has to be worth over £15,000. This narrows down the field somewhat to something a little more high-end, so it's goodbye Punto, hello Porsche 996 Carrera 2.
But is 15 years really old enough to make a car a classic?
Let's look at excise duty. Owning a classic car means you don't have to pay any, with the current cut-off date to qualify being a rolling figure of 1977 or earlier. But you just head to any car show up and down the country and tell owners of a Ford Sierra Cosworth or Jaguar XJS that they're not classics, I'm not sure you'd be very popular.
So that doesn't really narrow it down, what about the registration plate?
Perhaps dateless number plates suggest the vehicle is a classic? You know the ones, not a year identifying suffix or prefix letter in sight, no numerical code from the current vehicle reg format; simply elegant, unique registration plates. Cars built in 1963 or earlier will automatically carry a dateless reg, but it's worth remembering that because of their dateless status, the DVLA allow you to buy these cherished, old school registration plates for any age of vehicle, so it perhaps doesn't always mean that your car is a classic for having a dateless reg. However, dateless number plates aren't just cool because they're dateless, they're also timeless, and they do look great. Check out our range of dateless number plates here.
A better way of identifying classic cars would be that wondrous black and silver (or white) classic number plate. One of these surely means you've got yourself a classic car, and that you may even be a spy for MI6 with more than just a license to drive in your wallet. If this defines a classic car then this would be vehicles from 1972 or earlier, or since 2021, those registered from 1980 onwards.
But it's not all about numbers and technicalities. Someone with a classic car from the 1970s will probably laugh at you for considering a car to be classic when it was around the time Rick Astley reigned supreme in the charts, as opposed to say The Rolling Stones or The Beatles. Likewise, a 40-year old with a newly purchased Ford Capri MK III will scoff at the idea that theirs isn't a classic because it doesn't have a vintage silver registration plate.
So, it's all a bit of a minefield.
One thing we can agree on though, is that certain cars just have that feel of a classic. It's not necessarily about historical tax brackets proposed by the DVLA, or for the HMRC to define, it's that piece of personality that makes it unique to the owner. Whether it be reminiscent of a time that ignites nostalgia, a throwback to a bygone era, or simply something you thought was cool when you were 13 and now you can finally afford it. It depends on who you are, and what you enjoy as a car-lover. A classic is something unique, personal and bespoke, just like our number plates, so top off your vehicle with a personalised, unique registration plate to not only stand out, but stand the test of time.
Classic Cars As Investments
Now, let's talk about classic cars as investments. Is it a good idea? Should you swap your low-interest savings account for a classic vehicle? Which ones make money? Let's find out.
The 1980s, and particularly 1988, saw a thunderous boom in classic and exotic car purchases, but what goes up must come down, and the rise led to a dramatic fall in the early 90s with some car values dropping by an astonishing 40%. This has been the one consistent theme in the market over the past 25 years; it's inconsistency! There have been great booms and great lulls, so it's really worth doing your homework when looking to purchase or restore a classic car.
We're currenlty in a bit of a lull in 2019 after a successful recent few years. Supply has just about caught up with demand with many thanks to the internet making it far easier to locate private sellers via auction sites, classic car restoration services and dealers. This, along with high storage costs, and an increasingly oversaturated selling marketplace and various other factors means that it's not a great time to get involved unless you're knowledgeable or on to a sure-fire winner (more on that below).
However, there's still money to be made from certain models that stand the test of time and are in excellent condition, and there are also a few tips and tricks to add value or make some money from your classic car.
Classic Car Restoration Advice and Tips
Selecting the best number plate for a classic car is a great way to get started before you even get it into a garage, and a great way to add that finishing touch to perfect your vintage vehicle once you're finished. You could add a number plate that matches the age of the original car to give it that edge, or purchase a plate that matches the area of the country in which the vehicle originated, a dateless number plate or even just something out of the ordinary to stand out once you're ready to hit the road (or auction).

If the classic car you're buying has it's original number plate, then you may have the opportunity to sell it. The simple fact that the car is older means that the number plate is older, meaning that it could be valuable in today's market. This is particularly the case if it is a dateless registration plate from before 1963. If so, then you could earn a tidy profit by selling your number plate, who knows, it might be somebody's perfect number plate which goes on to be cherished forever. See how much you could get for yours here with a free number plate valuation.
It is worth noting that when you take a registration plate from your car, the DVLA will give you an equivalent age-related plate to take its place. This replacement reg, however, will be non-transferable, stopping you from perpetually picking up choice plates and selling them on. You'll be able to see "non-transferable" written on the V5C log book if you wish to check. You can put another reg onto the car though, so if the current reg isn't to your liking, why not hunt down something that hold significance to yourself?
Should I Invest In A Classic Car?
The key question is; do classic cars make a good investment? If you're looking to get into the classic car game to add to your portfolio of investments, these are a good place to start: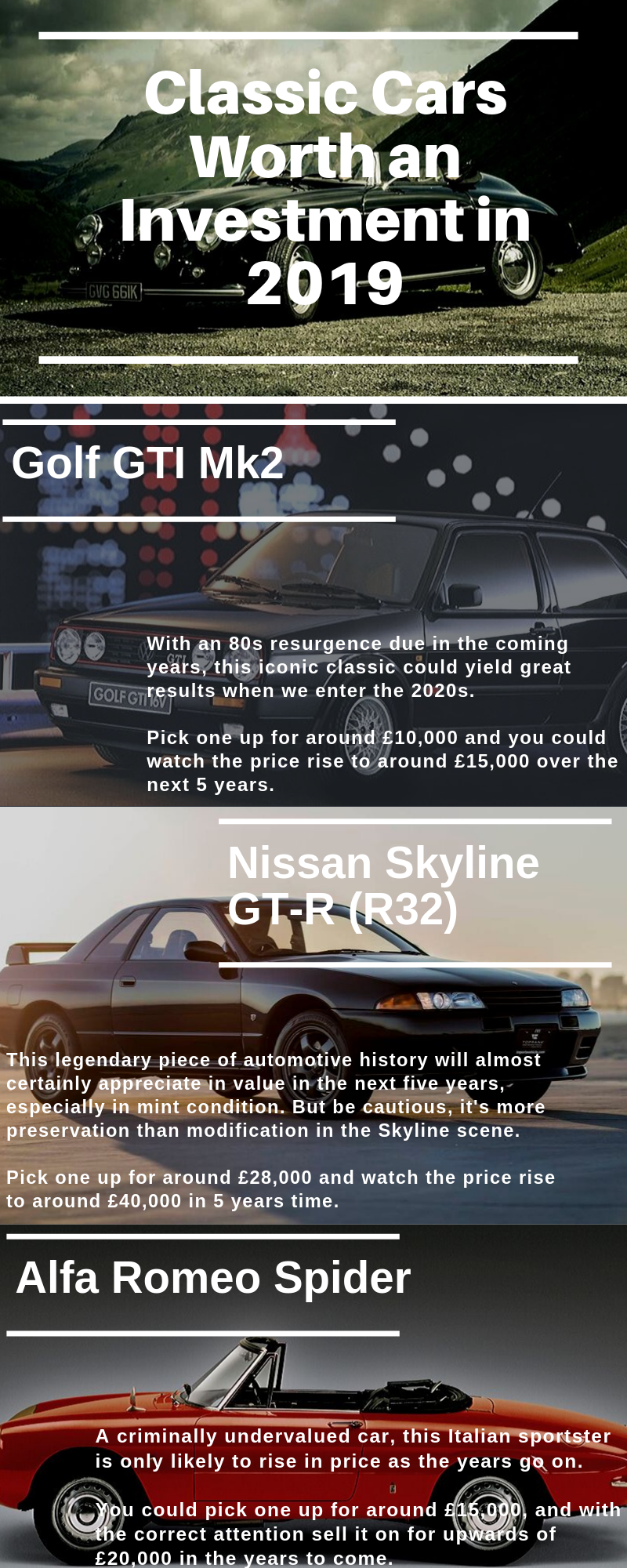 But the classic car market is volatile and unpredictable so ensure you do your homework. If you know your stuff, do your research, hit the auctions and dealers and find that perfect classic car that's appreciating in value, you can get yourself a good, fun investment to turn a profit. Then all you do is sit back and wait for the market to fluctuate, enjoying it in the meantime. It might take a while and it might be expensive and not as lucrative as it once was, but there's still money to be made.
But it's very important to note that it's not for everybody, and research should be done if you're not knowledgeable or passionate about classic cars to avoid unexpected pitfalls and hidden costs.
Check out our enormous range of DVLA approved number plates online now, and find that perfect plate to match your pride and joy.