The Tucker Sno-Cat - Model 222 AKA 'The Kitten'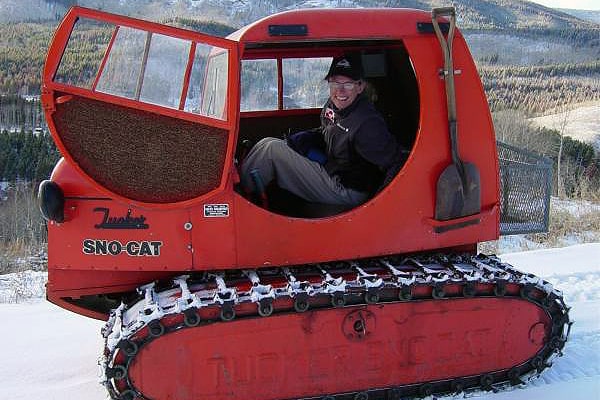 The 'Kitten' was built between 1957-1962 and is easily the least extreme vehicle on this list.
It can reach speeds of around 11mph thanks to a whopping 32 horse power and dual caterpillar tracks. With only 110 ever made and most of them being exported to Russia, this is an extremely rare and popular vehicle with enthusiasts.
E.M. Tucker Sr. created his first tracked vehicle in 1941, spending considerable time designing a vehicle fit to negotiate the soft, deep snow of his home; the Rogue River Valley of Oregon. The now famous Tucker company went on to release many Sno-Cats and they have become a household name in the all-terrain vehicle world, so it just doesn't feel right not to include at least one Sno-Cat in this list.
But enough of the cute stuff, let's move on to some really extreme snow vehicles.
---
A 3D Modelled, Completely Insane, Russian, Off-Road Monster Truck Nissan Maxima

This, 'car' was created by a Russian engineer who, armed with 3D modelling software, parts of a Nissan Maxima and a vivid imagination, set to work creating a truly extreme vehicle. Igor Sukhorukov built this monster-car, a result of a childhood dream, for fishing and hunting trips around the Altai Mountains.
As well as his forays into the Russian wilderness, Sukhorukov also offers his creation as a tourist attraction, giving lifts to visitors looking to admire the mountain scenery and do a bit of hunting themselves.
This somehow street-legal monster truck of a car is equipped for any and all driving conditions and wouldn't look out of place leaving a spaceship or Bruce Wayne's garage, which is probably why so many people visit the engineer to take a photo with the vehicle.
---
The Avtoros Shaman 8x8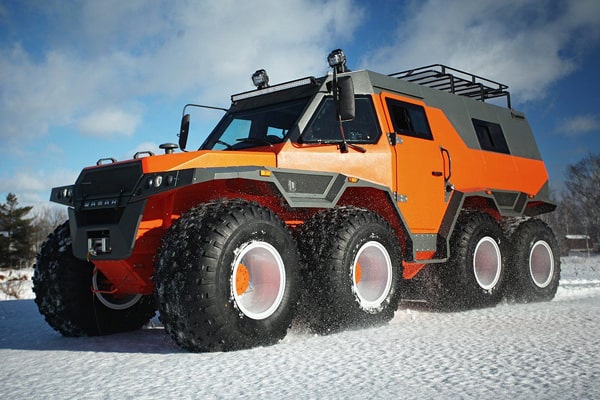 Yep, that says 8x8, and unsurprisingly, it was made in Russia.
The Shaman's design includes the ability to carry 8 passengers and has the option of low pressure tyres, an optional extra that can allow it to navigate on water, a "captain's chair" driving position, three drive modes, on and off-road capabilities, and a "crab" mode that allows the car to move sideways – that's a lot of options.
It was intended to navigate all forms of terrain and to be an ideal choice for outdoor adventurers. Each vehicle costs over €150,000 and takes two months to make, including opportunities for customisation during the building stage.
Mark this one as very useful in the majority of post-apocalyptic scenarios.
---
Timbersled Mountain Horse

This isn't quite a vehicle, but a conversion kit to apply to motocross bikes.
The kit replaces the front tyre of a bike with a singular ski-sled, with tracks to the back of the bike to replace its rear-tyres, effectively creating a high speed dirt bike/snowmobile hybrid.
The modification of motocross bikes started off as a very DIY-based field, but Timbersled have taken this form of bike mod to a new level, breeding a whole host of new professional riders and established sports.
This move into a professional arena has been exemplified by new categories within the X Games from 2017, with Snow BikeCross and Snow Bike Best Trick events contested each year.
---
Ziesel Tankchair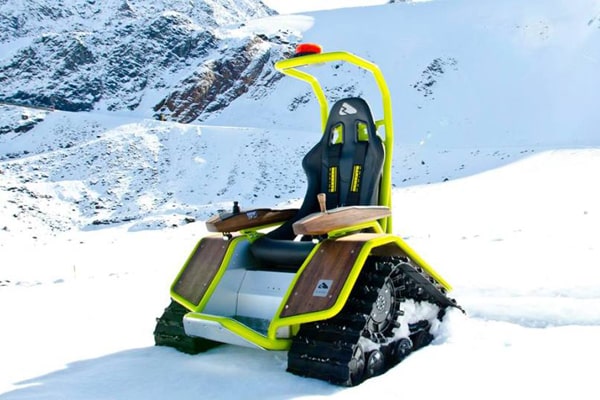 It's a question we've all asked; what do you get when you mix a tank with a wheelchair?
Why it's the Der Ziesel Offroad Driving Machine of course!
This is the wild-child offspring of an M1 Abrambs Battle Tank and Hoveround mobility scooter. It features sculpted wooden armrests, a single joystick control, metal mudguards, a range of fancy paint job options, 21 horsepower, 30 pound-feet of torque and a 6kWh battery giving it the ability to pump out max speeds of 22mph.
This little beast can run for around 4-5 hours on one battery pack and is ran off all electric power, built for all terrains and able to tackle sand, snow, mud or grass.
---
The Lazareth Wazuma

With cartoonish wheels and a larger than life design, this wondrously ridiculous quad/motorbike is a French creation and is one of a whole host of crazy vehicles in the Wazuma series.
The initial Lazareth Wazuma R1 featured a fully custom-built frame with a carbon and fiberglass body built around core elements of the Yamaha YZF-R1 superbike. It included the R1's cross-plane engine, 6-speed transmission, and brakes directly taken from the bike.
They then levelled up with the Wazuma V8F, which was based on the R1 but this time featuring a Ferrari 3.0L V8 engine capable of delivering 250 horsepower, along with a handlebar-controlled six-speed sequential gearbox from a BMW M3. Very nice indeed.
The snow-version of the R1 offers skis at the front and tank tracks instead of tyres and is built to tackle all wintery conditions from icy lakes to snowy landscapes. This is one of many crazy iterations of this incredible machine, with more in the pipeline.
---
The Hyanide

The Hyanide is a combination of a dirt bike and four-wheel snowmobile which was first showcased at the 2006 Michelin Challenge Design competition.
Intended to combine the multi-terrain nature of an ATV and speed/design of a motorbike, it can move through deep mud, sand and snow thanks to one continuous track. This track is set to be much lighter and flexible than tracks found on any tank or bulldozer, adding speed and agility to the rider's experience.
Although this bike only exists as a prototype one-fifth scale model, we really hope this gets manufactured as it seems to be taking extremity to a whole new level with a design straight from the future.
---
Sherp ATV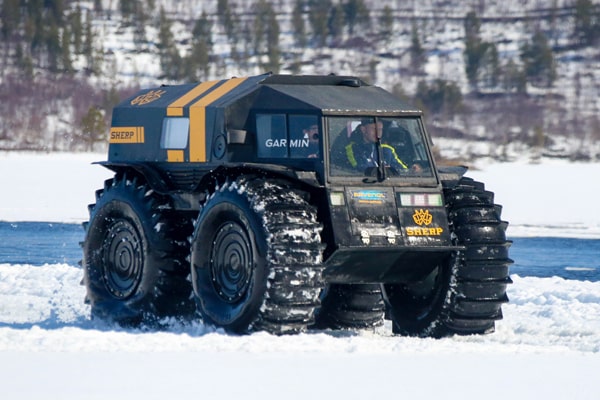 Who would possibly come up with an all-terrain, amphibious vehicle with the ability to cover obstacles over 6 feet tall? No prizes for guessing this one, it's from Russia.
Designed by Alexei Garagashyan, the ATV has a carrier body made from steel and aluminium which can go all-terrain and stay afloat even without its wheels. It has no springs or joints, relying instead on differential steering and suspension from the tyres.
These tyres measure in at 63"x25" which span the length of the whole vehicle with an incredibly nifty onboard system to inflate or deflate them. The grooves on the wheels also quite ingeniously double as paddles when in water.
It can tow up to 2500 lbs and has the ability to tackle snow, mud and marshes, with a maximum speed of over 25mph on land and just shy of 4mph on water.
---
Kharkovchanka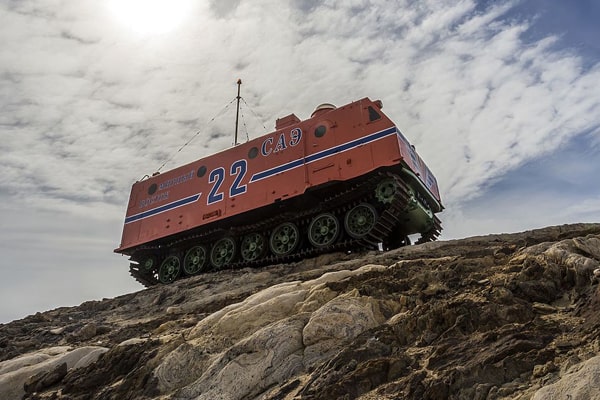 This Antarctic off-road vehicle was made in 1958 in the Soviet Union (with a cool codename: Project 404S). It was manufactured by the Malyshev Factory and based on the AT-T tractor platform, with assemblies from the T-54 tank.
Essentially the most extreme campervan ever made, this very off-road vehicle featured a kitchen, toilet, oven, eight beds and even a clothes dryer. In December 1959 it was delivered to Antarctica and managed to get to the South Pole from Vostok and back again, a journey totalling around 1600 miles, in just over a month.
Measuring in at 3.5 metres wide, 4 metres high and 8.5 metres long, with 1 metre wide caterpillar tracks covering the length of its body, this is certainly an imposing looking vehicle. Designed with maximised interior space and comfort in mind, the engineers designed the 8-person cabin with a 2.1 metre high ceiling placed on an elongated, modified AT-T frame.
This thing is enormous both culturally and physically, and in 1969 the second generation of Kharkivchanka was produced, being delivered to Antarctica in 1975.
---
Ripsaw EV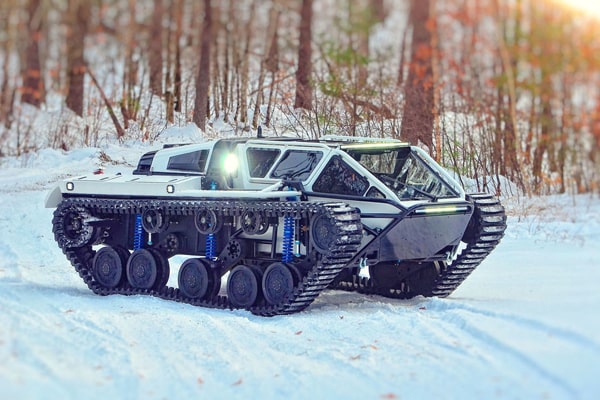 This truly ridiculous unmanned, luxury tank does 0-60 in a mind boggling 3.5 seconds. This makes this tank, yes tank, faster than most cars and indeed most superbikes you're likely to come across in your life.
Originally designed and built for the military as a light-weight super tank, The Ripsaw EV proved to be the fastest dual tracked vehicle ever made. Its creators Howe and Howe have even won numerous best invention awards for their family-made machine.
The Ripsaw is also a Hollywood star with a major film role in the Fate of The Furious under its belt, as well as a starring role in Mad Max: Fury Road, with a car body on the top to make it a little bit more apocalypsey.
It can handle drifting across ice lakes, bounding through snowy forests and even flying through the air off of snowy dunes as seen in one of many promo videos, and is by far one of, if not the most, extreme vehicles ever created.