Customer Number Plate Story: S18 OAM
Number Plate Story S18 0AM - Stuart Boam
"Six foot two, eyes of blue, Stuey Boam is after you" - National Numbers meet Middlesbrough Football Club's famous player Stuart Boam outside the Riverside Stadium to present him with this fantastic personalised registration.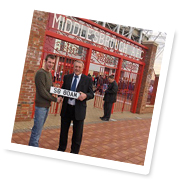 Stuart Boam was guest of honour at the Middlesbrough versus West Bromwich Albion FA Cup tie on the 17th February 2007; making an appearance at half time to a roaring home crowd to draw the half time jackpot, sadly we did not win!
We met Stuart outside the famous Ayresome Park gates, now a permanent feature of Middlesbrough's new home 'The Riverside Stadium' before the game and presented him with his personalised plate. 'I am very happy with the number, it is perfect for my name, Boam.' So much so, he instantly decided to get a similar plate his wife! 'I'm delighted that we both managed to get sorted with matching numbers, I'm sure it will look great on our vehicles!'
Middlesbrough's performance however, was not up to the highest of standards we have come to expect this season, only managing a draw, however on the return fixture they scrapped a victory via a nail biting penalty shoot out. Stuart now looks forward to a quarterfinal fixture against championship contenders Manchester United, a game that any footballer would relish the chance to be involved in.
Shortly afterwards we caught up with Stuart for a chat and found out what he thought of the game, 'Yes its very enjoyable, I have been to five home games this season and one away trip to Arsenal. My family and I still follow the club very closely and enjoy watching live home games, now I have retired I am hoping to see a lot more action on Teesside.'
He went on the offer his opinion on the clubs current form, 'I feel we are going through a transition period at the moment, although we are scoring plenty with our stickers, Viduka and Yakubu on top form, injuries are causing disruptions to the team and this has lead to leaking soft goals at times. I wish all the luck in the world to new manager Gareth Southgate he is a lovely man who at present is only just starting to stamp his mark on what is essentially another mans team.
I am confident the chairman, Steve Gibson, will back him financially as he has with all other managers in the past and allow Gareth to bring in the players he wants. Steve is an ambassador for the game of football who without they may have never been a club as he saved them from bankruptcy, he is just as passionate as any fan in the stadium!'
Now manager of the national side, Steve McClaren is somewhat of an infamous character in the local area due to his tactics on the field and business off the field, when asked his opinion Boam was slightly more complimentary, 'I was happy with Steve as a manager, he was the first man to bring success in the form of silverware, and despite coming in for some criticism he is still the first manager to bring such glory. As far as the England job is concerned I wish him all the luck in the world and despite his shaky start I am sure he will make a great national coach.'
Conversation then flowed onto the topic of Boam's illustrious career, his fondest memories were shared, 'It would have to be the championship-winning season of 1973/1974 when Middlesbrough gained promotion to the old first division, what is now the premiership, under the guidance of charismatic manager Jack Charlton. Most notably an away game at Luton, when we were a couple of points away from promotion and victory in this game would secure promotion to division one.'
After winning 1-0 Boam recalls, 'It is the only game I can remember being told off for winning! Jack wanted us to win the championship on our next home game in front of a sell out home crowd at Ayresome Park, securing much needed revenues.' Due to the telling off the next game arrived and Middlesbrough put on a great performance beating Sheffield united 8-0 completing one of Middlesbrough's most joyous season.
Boam has now retired from playing football but still actively keeps in touch with ex-professionals. 'I've always stayed in touch with the old teams people such as Jim Platt and John Hickton and always ask after others. Often I bump into people at Middlesbrough related functions.'
Most notably was his long friendship with fellow centre half Willie Maddren, who tragically passed away 27th august 2000 after a brave battle against motor neuron disease. Thousands of pounds were raised for the cause of which Boam played a key part. 'I did everything I could for the cause and continue to help out as much as I can.'