Customer Number Plate Story: SUE 1
Number Plate Story SUE 1
My Father Sees Number Plate SUE 1 for the First Time
They met at The Prince of Wales Pub situated on the High Street, Solihull Lodge. The pub is still there. This is when my father first set eyes on the car. It must have been love at first sight, because a deal was struck there and then. There was, however, one slight problem and that was the number plate, SUE 1.
The original owner wanted to keep the plate and wanted another £100 to keep the plate with the car. My father was unwilling to pay the extra. He considered this a frivolous expense. It might well have been different if my mother of my sister was been called Susan, or Sue or Suzette or similar.
So the deal went ahead. On 1st January 1962, my father sent a letter to the Forge Garage, as follows: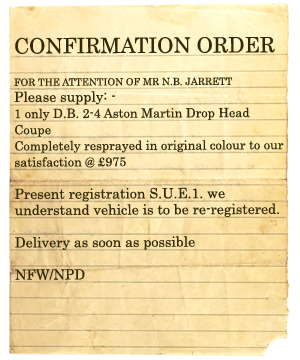 The next document is dated January 5th 1961 and confirms the order. The number plates are invoiced at £1 and 18s; the cost price to The Forge.
The next document shows something of a turn-around with regards to the number plate. Typed in red, is the cancellation of the charge for the number plate and the following,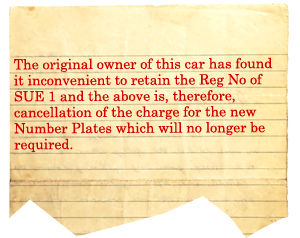 On 31st January 1962, it seems that the transaction was complete apart from the part exchange of the 1952 Wolseley, MOV 522 for £125, which took place on February 14th 1962.
On 19th February, the Aston-Martin replaced the Wolseley with 'The Liverpool & London & Globe Insurance Company Ltd'.