Could You Be At Risk?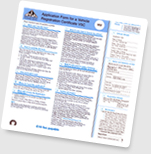 The new British Crime Survey has revealed that every year, tens of thousands of cars and their owners are victims of Car Ringing - the term given to vehicle identity theft - where a fake, forged, or stolen V5C (the new name for a log book) is used to disguise or cloak the true identity of a vehicle.
Car Ringing robs thousands of pounds from innocent motorists every year simply because they unwittingly bought a car with fake documentation. The vehicle they purchased in good faith is recovered by the Police and returned to its original owner; and there is no legal comeback. Alarmingly, 11% of motorists never checked the paperwork that came with their second-hand car, the survey revealed.
The DVLA, too, has highlighted the risks to motorists: their research has pointed to a fifth of motorists who are blissfully unaware of the purpose of the V5C document; and more than half of motorists who can't tell the difference between fake and legitimate documentation. Unsurprisingly, the DVLA is concerned that the trend for Car Ringing and Car Cloning look set to rise; with motorists not realising the potential risks, and many being fooled into believing the documentation that came with their new car is genuine.
So what can be done to protect yourself and your car? John Moore, from the DVLA's Crime Reduction Unit, advises:
"When purchasing a car, always check the serial number of the registration certificate. If the serial number begins with a prefix between BG916 and BG919 contact DVLA or the police as there are currently stolen documents with this prefix in circulation."
Who Is Most At Risk From Car Ringing?
Those buying second-hand luxury cars that cost tens of thousands of pounds.
Young persons aged 17 to 24 are the least likely to ask to see registration certificates.
What Can I Do To Protect From Car Ringing?
NEVER buy a vehicle without a certificate, and:
Carry out a range of checks on both the documentation and the vehicle before purchasing. See our checklist below.
Checklist - How to Spot Car Ringing
Check the 17-character Vehicle Identification Number (VIN) against the number found in the engine compartment of the car.
Check for a visibly tampered document watermark on the log book (V5C).
Fake documents with illegitimate serial numbers include those with the prefix BG916 to 919.
If still in doubt, call the DVLA's V5 help line on 0870 241 1878 to check the authenticity of a certificate.
You can also use car data-check web sites such as theaa.com/vehicle-check and www.hpicheck.com.