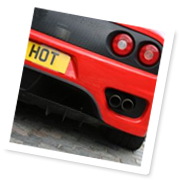 This new private members' Act was passed to become law on Thursday 19th July 2007. It seeks to simplify the process of transferring registrations between buyers and sellers, and create a safer process that reduces the potential for fraud.
Richard Ottoway, the Conservative MP for Croydon South, introduced the Act – which has received support from both influential motoring bodies and the UK Government, with the Driver and Vehicle Licensing Agency (DVLA) and the Cherished Numbers Dealer Association (CNDA - part of the Retail Motor Industry Federation) rallying to push the bill through to law.
The Police are also backing the new regime for its potential to curtail crime against registration plate buyers: the old system made it possible for a seller to take a buyer's money without providing the plate or the plate's documentation.
But now, the registered keeper of a vehicle can apply to retain the registration mark separately from the vehicle, and the owner is warranted the right to use the mark on another vehicle for up to 12 months.
A further extension may be possible until such time as the mark is assigned to a vehicle.
Robert Wicken, chairman at the CNDA said:
"Now the Act has passed into law, consumers and cherished number dealers will get a process that provides more choice and flexibility."
This is really exciting news for all those involved in buying and selling car number plates. Instead of a registration mark having to go on to a retention certificate in the name of the seller (with the buyer's name as nominee only and, thus, having no legal rights), the certificate can now go straight into the buyer's name at the time of the retention application.
This is much safer and fairer system all round, with no chance of the seller reneging on the deal and applying for a duplicate certificate. It puts the buyer much more in control, with all reminders from DVLA coming straight to the buyer.
Absolutely brilliant – plus a victory for common sense!
More information:
Retail Motor Industry Federation
Read the Act: