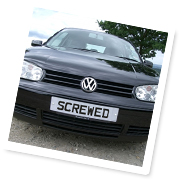 A partnership recently formed in Oxford has the intention of curbing surging numbers of car number plate thefts through the use of new anti–theft screws.
The partnership, formed a year ago by Oxford council and the Oxford Safer Communities Partnership, was launched following an increase in number plate theft incidents. This new scheme, involving the free of charge screws, will run over the coming summer months.
What makes the screws different to regular number plate screws, is that they are impossible to remove without breaking the number plate. Successful pilot schemes previously run in the county gave anecdotal reports of a significant reduction in thefts.
This is great news for those motorists who have been wrongly involved in crime, fined, given points on their licence, or worse – convicted, because their number plate was stolen.
Crime Reduction Officer Nick Gilbert said: "The stolen plates are often used to disguise the identity of vehicles used to commit crimes such as the theft of fuel, avoiding London congestion charges or fooling speed cameras."
According to BBC News, more than 40,000 sets of number plates were stolen in 2006, a rise of almost 25%.
With car ringing and other identity crimes becoming more prevalent daily, let's hope this free technology can be rolled out to the rest of the country some time very soon.
For now, you can buy anti-theft screws from Speeding.co.uk for £5.99 per set.
If you'd like to secure a private number plate of your own, how about a screwed plate, a safe plate or maybe a sorted plate? Or try your own combination with our number plate search.