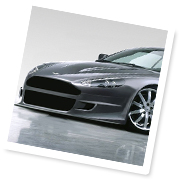 The polls are in, and visitors to the DVLA's registrations web site have voted top British marque Aston Martin's beautiful cars as their favourites in an online poll designed to discover the nation's top ten dream cars.
The poll, which shows that the famous British car manufacturer is still very much a name synonymous with quality, is a classic example of the good old British patriotic spirit rising to the fore.
The Aston Martin appears in three places in the list of most desirables. At the top spot is the uncompromising Aston Martin DB9, a car that Top Gear's Jeremy Clarkson dubbed "motoring perfection" - and I don't think that James Bond would dare to disagree! Aston Martin's previous flagship vehicle, the Vanquish, comes in at number three, and the hand-built Vantage at a modest number five.
Also featuring amongst the favourites are Italian beauties such as the Ferrari Enzo and Ferrari 612 Scaglietti.
The ubiquitous Porsche Carrera GT also pushes its sleek nose in at number 8.
If you're looking for a dream number plate for your dream car, I think National Numbers Car Number Plates search is the most comprehensive you'll find on the Internet.
There are thousands of quality number plates, all conveniently categorised: from Aston Martin to Yugo - you'll find number plates for the most popular makes and models listed all starting from as little as £49 and delivered to your door. Give it a try!