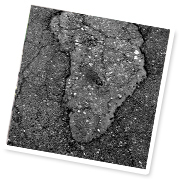 Shockingly, UK drivers are paying more than 2.8 billion pounds a year on mechanical car repairs, thanks to the shoddy condition of UK roads, recent news from independent insurer Warranty Direct has revealed.
The research, conducted on nearly 500,000 vehicles – pinpoints decaying British roads as a major cause of up to a third of all mechanical break-downs.
Duncan McClure Fisher of Warranty Direct says: "continuous driving over cracked or uneven road surfaces, or one sudden jolt from a pothole, can cause substantial damage to shock absorbers, springs, upper and lower arms and stabiliser bars".
Not good news, especially when you consider that the UK road tax payer, despite loosely paying twice as much tax as folks in the USA, is still twice as likely to suffer damage to his or her car as a result of bad British roads.
Some cars are affected more than others. Top of the hit list are Jeep, Chevrolet, Daewoo, Jaguar, Kia, Subaru, Volvo, Suzuki, Chrysler, Honda and Nissan.
Still, despite suffering busted shock absorbers, springs, arms and stabiliser bars, you can rest assured a securely-fixed personalised number plate from National Numbers won't fall victim to potholes, and will look the business too. Number plates for all car makes and models are included in our easy-to-use number plate search. Give it a go!