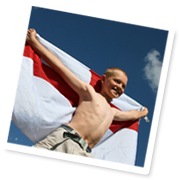 It's that time of year again for celebrating everything that is English: no, not pints of warm beer, cricket, HP sauce, interminable queue lengths, or even the ubiquitous fry up; but St. George's day, on 24th of April; and how quickly it has come around this year!
But who was St. George anyway? Well, he was a soldier of the Roman Empire, born some time around 275-281 AD. Of course, his notoriety comes from the legendary slaying of the evil dragon. Apparently the dragon would lie in wait over the well from which the village people of Silene in Libya would draw their daily water. The dragon required a daily human sacrifice in order to allow access to the well, and the people of Silene would pick the unfortunate individual from a hat, so to speak. One day, when the princess of the village was randomly chosen for sacrifice, the powers that be must have decided that enough was enough, and dispatched St. George to the well, who quite rightly jumped in with both feet, and killed the dragon with his sword. Hooray for patriotism!
As well as being the patron saint of England and also Canada, China, Ethiopia, Greece, Montenegro, Palestine, Portugal, Russia, and Serbia – St. George is also the patron saint of Freemasonry and Scouting!
In England, we've been rallying to make St. George's Day a bank holiday for years, as yet with little success. But you could always pledge your patriotism to England with a private registration from National Numbers. How about the new style/millennium registration EN57 AND? Or a classic suffix registration: ENG 72C? George also has his fair share of glory on our web site; just look at all these wonderful George private registrations!
We have a wider selection of patriotic registrations and saint registrations that are well worth a look.
Happy St. George's Day!