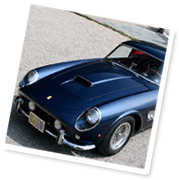 A £5 million Ferrari, once owned by Hollywood actor James Coburn, has been bought by BBC DJ Chris Evans. The 250 GT SWB California Spyder was bought at auction by Evans, who paid twice the estimated price for the sleek Ferrari at RM Auctions' Ferrari Leggenda e Passione event.
Auctions are often a great place to pick up rare buys you'd never find elsewhere. RM Auctions' founder Rob Myers told the BBC News web site that the fact the Ferrari was owned by Coburn was a factor in the higher-than-expected winning bid for the car, along with plenty of interest from other bidders, as well as Evans.
According to the Ultimate Car Pages web site, the California Spyder was a production car - however no two vehicles were the same, because they were finished to meet customers' demands.
So it looks like Evans really has bought a piece of history for his £5 million!
Looking for a good investment that will stand the test of time? How about a personalised dateless registration from National Numbers. We can't promise a piece of Hollywood history, but for personalisation and value for money, there's no better statement!