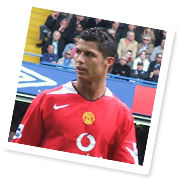 In the Sunday news this week was a story about Manchester United's Cristiano Ronaldo, who's got himself in a spin over the private registration CR 7.
Millionaire property tycoon Charlie Robinson currently owns the registration, and Ronaldo may well pay the £175,000 Robinson is asking for the registration plate - the number features not only Ronaldo's initials, but also his favourite shirt number and the name of his fashion store in Funchal. He's even planning the launch of a nightclub bearing the CR 7 name - talk about branding!
Despite Ronaldo's enthusiasm, the plate means a lot to Robinson who said, "that registration plate is close to my heart and I won't be letting it go easily". Robinson though is willing to relinquish rights to the cherished number in exchange for the registration CR 1.
Ronaldo isn't the only celeb who loves personalised number plates. Many stars have invested in unique and interesting number plates that match their professions - one such celebrity is Toyah Willcox. National Numbers brochure features an interview with the legendary Toyah, who talks to us about investing in number plates and her fantastically varied career.
The magician and entertainer Paul Daniels owns a registration that speaks for itself: MAG 1C.
Funny man Jimmy Tarbuck owns COM 1C, which fits brilliantly.
The personalised reg S8 RRY is owned by ex Take That band member and solo artist Robbie Williams – the "sorry" registration was a message to fans to explain the purchase of his very expensive car. He later ended up buying a moped!
Amstrad founder and The Apprentice star Sir Alan Sugar owns AMS 1 – which is absolutely perfect for his name and all of his business ventures.
Even her Highness Queen Elizabeth 2nd owns a private registration - A7 - a stately mark, fit for a Queen, and issued in London in 1903.
Dateless registrations like these really are the cream of the crop when it comes to the most personal of personalisations – why not try a search for your own star plate? National Numbers Dateless Number Plates page or our Number Plates Search showcase millions of potentials – give them a whirl!