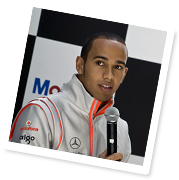 I've been reading with interest the reports of Lewis Hamilton and the LEW 1S number plate he's supposed to have bought.
Now, allegedly, Hamilton denies buying the plate, thoughtfully adding a bit of a snub towards number plates - something along the lines of: "why would anyone want to actually buy a number plate?".
However there must have been some truth in the story because both The Telegraph and ITV posted news articles stating that Hamilton had bought the personalised number plate, for the grand sum of £200,000.
Fellow number plate dealers have released a good number of press articles relating to the number plate story. One in particular proposes that the purchase was in fact a ruse masterminded by the private owner of the registration, property tycoon Bob Lewis, designed to generate hype and interest in the number plate by riding on the back of Lewis's fame.
Whatever the truth is - it's actually a fantastic number plate for Lewis! But, as with most things in life, there's always room for improvement.
National Numbers are now taking pre-orders for previously unreleased F registrations. This is the last big prefix release so Lewis had better move fast (although I'm sure that won't be a problem!).
Lewis Carl Davidson Hamilton, 23, born January 7, 1985 in Stevenage, Hertfordshire, whose latest win was the 2008 Monaco Grand Prix, could pre-order the fast and furious F registration F1 LEW, or F1 LDH, both a nice way to combine the significance of Lewis's career and his name / intitals in one registration!
Or how about a search which will hunt through ALL the 30 million registrations we have on our database? LEW 7S is a quality number plate in these results, or he could just browse all Lewis number plates.
There are so many ways to find what you're looking for. Don't be afraid to search for absolutely anything! The search really is that powerful and easy-to-use! Try our Number Plates Search yourself now!