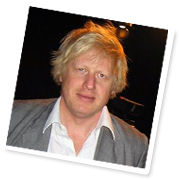 London mayor Boris Johnson has stayed true to his pre-mayoral word by not increasing the London congestion charge for polluting large and 4x4 vehicles.
Previous mayor Ken Livingstone proposed the charge be raised from the acceptable figure of £8 for vehicles emitting more than 225g of carbon dioxide per kilometre, and for vehicles registered before March 2001 with engines larger than 3,000cc, to a mind-blowing £25, from October.
However Boris ditched the plans, saying: "I am delighted that we have been able to scrap the £25 charge, which would have hit families and small businesses hardest". He added: "I believe the proposal would actually have made congestion worse by allowing thousands of small cars in for free."
Boris was prompted to avoid the increase on the power of a legal challenge from car manufacturer Porsche, who sought a judicial review of the proposal after unearthing research from King's College in London.
The academic research proposed that the new charge could actually increase CO2 emissions because people would theoretically drive a greater distance to avoid the congestion charge zone.
Porsche Managing director Andy Goff said: "Porsche is proud to have played a decisive role in striking down such a blatantly political tax increase targeting motorists."