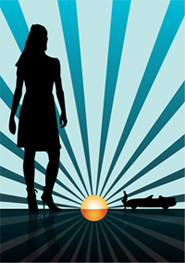 In the days of gender equality, "new age" men, the demise of the male chauvinist pig, and where it's typical to see men showing their soft and understanding side, it's the women who've turned the tables by judging prospective partners by the type of car they drive.
A new study by Kwik-Fit has found that three quarters of a million women have admitted to dating a man just because his car impressed them. Only 40% of men in the study said they judge women by the type of car they drive.
The key figure here is that 44% of women think they can tell a lot about a man by the car he drives. This doesn't suggest he has to drive an Aston Martin or Ferrari in order to cut it with the ladies. It simply means he should clean up after letting his shaggy dog ride on the back seats, and occasionally take his car for a blast through the jet wash – because it says he cares! David White of Kwik-Fit agrees: "Whilst many people strive for a honed appearance to attract the opposite sex, it seems this can often count for little if their car is unreliable and has filthy paintwork, an oil leak and bald tyres".
If you think this is a show of female chauvinism, you may be mistaken. Women know that men, read: people, who don't look after their cars are less likely to look after other areas of their life for instance their relationships, health, and career. I mean, if your prospective beau drives a beaten-up car, with hairs on the seats, and sticky marks all over the windows, he's a bit of a slob right? And if the brakes on his car don't work, how's he safely going to drive you to the shops? (I'm kidding!).
What is surprising is that a further 230,000 women said they declined a date with a guy they fancied because his motor failed to impress.
I wonder if personalised number plates make a difference. I mean, you're not likely to shell out on a number plate only to let it get filthy while it sits a-proud a rusting bucket?
So boys, clean up your car, show it the turtle wax, and get yourself a fancy new reg. She'll love you for it!
Many thanks to Duchesssa for the fantastic image.