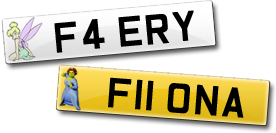 The DVLA are finally releasing the F-prefix registration numbers.
The marks will comprise the 'F' prefix, a number between 1 and 20, followed by a three-letter combination (excluding I, Q, and Z).
The registrations offer excellent choices for people with names such as Fern, Fiona, Florence, Frances, Frank, and Fred.
Also there are less practical options for those looking for Fame, or missing an old Flame, a Fiend that lives in Fife or a Fig eating Faery! But seriously ...
The release will be happening for one-day only, some time in October, so since the news of the release, we've been very busy taking pre-orders for these highly desirable F marks, and working hard to ensure we can honour our customers' orders.
Naturally, we are doing everything we can to ensure we win our customers' F plates.
Our track record of buying registrations from the DVLA is second-to-none. We are so confident that we will win your plate, that we'll show you just how successful we were at the last major prefix number plate release – the 'E' registration release. Just take a look at the list of 'E' registrations we bought in one day. We even bought number plates for other dealers!
And of course, if we don't win your plate, you get a full refund. What have you got to lose? Pre-order your fantastic F-reg now!