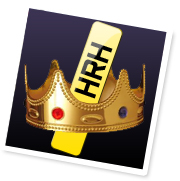 The private registration 1 HRH is expected to fetch a record amount when it goes under the hammer at the first DVLA auction of the year, next week.
A similar registration, 4 HRH, sold for a staggering £400,000 last year.
The personalised registration isn't the only registration to stir excitement amongst dealers and private purchasers - some previously unreleased "O" series registrations are being released at auctions across the UK this year. The auctions will see 1 O, 2 O, 3 O, 4 O, 5 O and 6 O sell for record figures.
Damien Lawson, Head of Marketing at DVLA Personalised Registrations said: "Two number plates have attracted the biggest amount of attention, they are 1 HRH and 1 O; and we are confident they will both attract six-figure sums, especially 1 O, because it's the first of its kind to be released for sale".
The two number plates will be auctioned on January 28th – 30th at Whittlebury Hall, Northamptonshire.