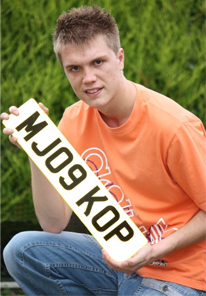 Doting Michael Jackson fan Thomas Slater has pledged an eternal tribute to his favourite pop star – by purchasing a very special number plate in his name.
The personalised registration – MJ09 KOP – pays homage to the undisputed King of Pop, and was snapped up by the lifelong devotee immediately following Michael Jackson's death, using his savings from a part-time job at his local Sainsbury's.
Thomas said:
"I was absolutely distraught when I heard the news about Michael dying. I've been an avid fan since I was six, and like all true fans I just wanted to pay tribute to the King of Pop."
What better way to show your support for someone? National Numbers initial number plates and name number plates are a great way to show you care. Or try our Number Plates Search for more registration ideas.