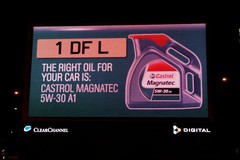 A new method to push sales of oil, using roadside cameras, and the DVLA's vehicle and registration database, has been instigated by Castrol.
The controversial technology scans driver's number plates and displays the right oil for their particular make and model of vehicle at five pilot sites in London.
Castrol say "this particular initiative will be the first time in the UK that personalised messages have been communicated on advertising billboards". They state that driver privacy is protected because the registration number is not stored.
Despite the novel approach and potentially helpful suggestions, the technique has caused backlash over concerns for drivers' concentration when reading the signs and the use of data that one would assume should be private, from the DVLA's database.
The five trial sites are Stamford Street in Blackfriars, Vauxhall Cross in Lambeth, Fulham Palace Road in Hammersmith, the Chiswick roundabout in Hounslow and Warwick Road in Kensington and Chelsea. The pilot will last two weeks from 21 September.
If you fancy giving the service a try, it might be time to spruce up your number plate before it gets displayed in lights! Search our number plate database for great alternatives to your standard registration number.