The Sun newspaper on Friday reported the plans of Manchester United fans to club together to buy Sir Alex Ferguson a personalised number plate.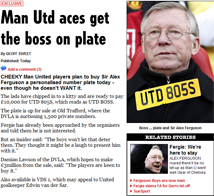 The number plate - UTD 805S, which reads UTD BOSS, was shunned by Ferguson, who told the fans that he "wasn't interested".
The loyal fans had raised £10,000 to fund the present, which was up for grabs at the DVLA Spring Auction in Old Trafford.
Damian Lawson of the DVLA reportedly hoped to make £3 million from the sale, saying that "the players are keen to buy it."
But, despite the media attention and high-profile of the number plate, it sold for just £2,500 on the hammer; bought by a seemingly unrelated couple at the auction.
So, Fergie gave the plate the thumbs down, but I am sure UTD 805S will be spotted somewhere, proudly displayed on a loyal fan's vehicle, and flying the flag for the Red Devils. Hundreds of fans who support Manchester United display Manchester United number plates to show their allegiance and support of the side.
Why not try a search on our web site for Manchester United football number plates today, or try a search for anything else – we're sure to 'unite' you with something special!