The automotive world mourns the death of Sergio Pininfarina, the legendary car designer behind the some of the supercar industry's most historic concepts.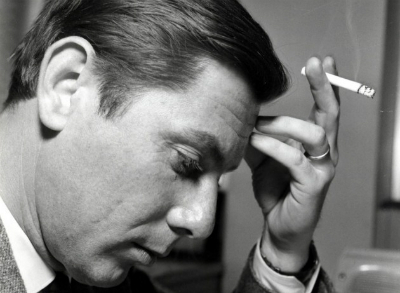 The automotive world mourns the death of Sergio Pininfarina, the legendary car designer behind the some of the supercar industry's most historic concepts. From the Ferraris he is synonymous with to the many other manufacturers he worked with over the year, his insignia became a symbol of quality, slick design. More than that though Pininfarina was a patriot who had a hand in rebuilding Italy's standing as a romantic and beautiful place.
The Beginning
Born Sergio Farina in Turin, Italy in 1926. Four years later his father, Battista "Pinin" Farina, founded a coachbuilding business that Sergio would run years later. The company (then Carrozzeria Pinin Farina) specialised in custom-made body designs for individual customers or for small-scale productions. Battista and Pinin Farina gained considerable recognition for the innovative Cisitalia 202 design, which became an attraction in the New York Museum of Modern Art.
Sergio himself would work with his father as early as 1946. Left out of the Paris Motor Show the father and son team drove to France and left two cars, the Lancia Aprilla cabriolet and the Alfa Romeo RC 2500 S, outside of the venue to garner the attention of guests and further grow the company's reputation.
In 1950 he graduated from Turin Polytechnic with a degree in Mechanical Engineering and quickly joined his father's company. It was one year later that Sergio was put in charge of an account that would go on to define him: Ferrari. Recalling the life-changing moment in 2006, Sergio said: "I was scared to death because Enzo Ferrari was already a legend in car racing and notorious for being difficult to deal with." The two would of course go on to forge a long-lasting relationship that saw Sergio Pininfarina become instrumental to Ferrari's designs.
Industry Icon
Ferrari Chairman, Luca di Montezemolo says it best: "Calling his relation with Ferrari legendary is insufficient. First with Enzo and then with me, he designed some of the most iconic models, such as the Testarossa or the Enzo, just to name two."
Sergio showed a high work ethic from an early age and pushed for the company to expand. He was managing director by 1961 and became chairman in 1966 following the death of his father. It was at this time that Sergio changed his legal surname to Pininfarina. He led his business from the front for the next 40 years, designing cars for the biggest names in the industry.
It is fair to say that Sergio would change the way supercars were made in numerous ways, but one specific innovation was the mid-mounted engine that became standard practice amongst car manufacturers, especially Ferrari. Every GT since the 1952 Ferrari 212 Inter Cabriolet came out of the factory doors bearing the name 'Pininfarnia', certainly an achievement in his long relationship with the company.
From Ferrari, to Fiat, to Alfa Romeo, to Peugeot, to Cadillac and many others, car manufacturers looked to the Italian company for design expertise. Sergio was at the heart of it with trend-setting designs like the sharp edges and flat panels that became calling cards for him. His designs won Sergio plenty of awards, including a Cavaliere del Lavoro (Italy), a Royal Designer for Industry (UK), and a Designer Lifetime Achievement Award (US).
Sergio also showed on multiple occasions that he was ahead of his time. He was an early advocate of an environmentally friendly car industry, working hard to increase fuel economy and reduce carbon emissions. He held a great interest in hybrid vehicles and in 1972 opened Italy's first wind tunnel. Today, Pininfarina has a high focus on electric cars going forward.
Treasured Citizen
"An exceptional person who connected his name indissolubly with our history and our success. Sergio was one of the most important advocates of Made in Italy all over the world, a man who gave Italy credibility and splendor. An example not just of an entrepreneur, but also known for his civic duties, he spread with great passion for his country. He demonstrated it as President of Confindustria, Member of Parliament and Senator for life." True words spoken once again by Sergio's friend and business partner, Luca di Montezemolo.
Sergio Pininfarina was a proud Italian and helped his country change its fortunes coming out of World War II. Many accredit the countries strong standing in the fashion and design industry to the work put in by Pininfarina's car designs in the early days.
From 1974 to 1977, Sergio rejoined Turin Polytechnic as Professor of Car Body Design. He was a member of European Parliament for the Italian Liberal Party from 1979 to 1988. He served as the head of Italy's Industrial Employers Confederation from 1988 to 1992. In 2005 he was named as a Senator for life of the Italian Republic.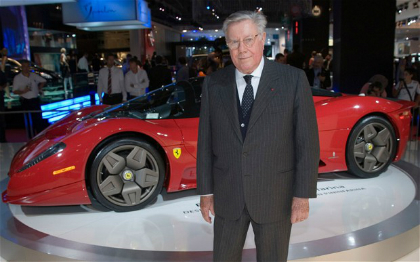 Sergio Pininfarina died in the town he was born, Turin, on July 3rd 2012 at the age of 85. He is survived by his wife (Georgia), his son (Paolo), and his daughter (Lorenza). He will be dearly missed by Italy and the car manufacturing industry.