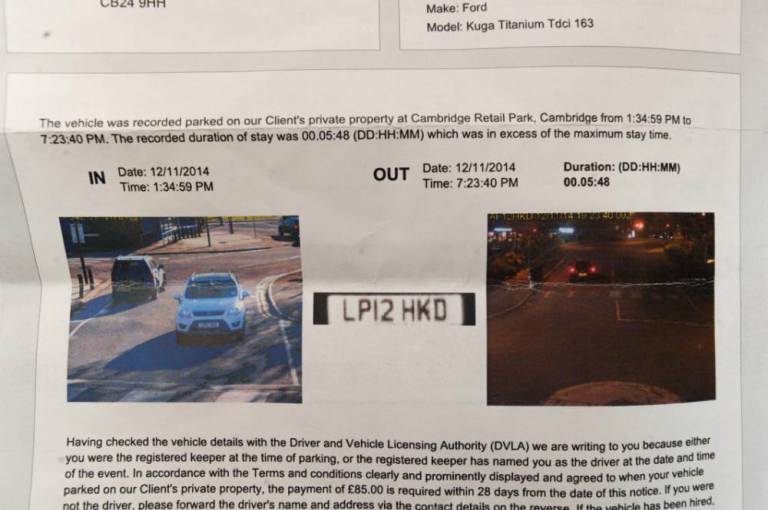 A couple have found out that when it comes to parking fines it doesn't matter if you're black or white.
Malcolm and Julie Creek were fined £45 for overstaying by 5 hours, which will raise to £110 if unpaid, but there is a clear error.
The letter issuing the fine shows the couple's white Ford entering the car park but a different car leaving almost six hours later.
'The car's a different colour to start with,' said an annoyed Malcolm Creek, 69. 'How stupid can you get?
The Cambridge couple entered the car park around 1PM, but left 48 minutes later after doing some Christmas shopping.
Five hours later CCTV clocked a black Vauxhall with a similar but different number plate and mistakenly registered this as the Creeks' car.
'I'm sure the retail park would be cross about this,' continued Malcolm, a retired assistant estates manager. 'It's going to put people off visiting. It's put us off.'
Total Parking Solutions, who issued the fine, have admitted their mistake and have apologised to the couple.
'It appears that in this instance the automatic number plate recognition (ANPR) camera misread the exit plate by one letter due to the dirty condition of the plate,' said a TPS Spokesperson.
'The two plates were almost identical, as a result of misreading a letter on exit, it was flagged as an overstay by the ANPR matching engine.
'We are sending Julie and Malcolm Creek our sincere apologies coupled with a £20 high street voucher for them to spend at the retail site for inconvenience caused in this instance.'