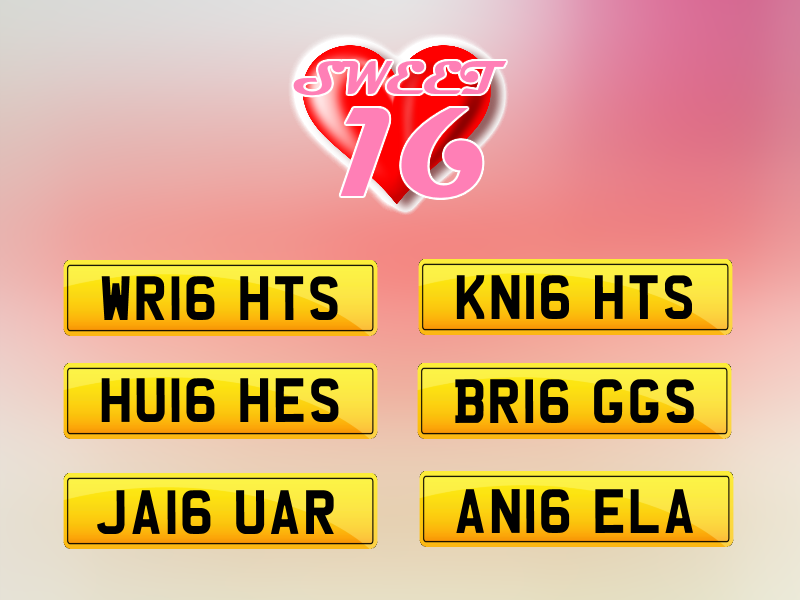 National Numbers are happy to announce the upcoming 16-series now available for pre-order.
16-reg number plates can be bought from December 2015 and as always National Numbers will be purchasing hundreds of number plates for our customers.
It is an exciting opportunity for the public to finally own various name plates, such as WR16 HTS (Wright), KN16 HTS (Knight), HU16 HES (Hughes), XG16 SON (Gibson) and more.
Customers can place pre-orders on 16-reg number plates ahead of time, and with National Numbers they will have the best chance.
16-Series Number Plates
"16" is a versatile number and can be used in place of some letters in order to make a number plate appear to read as a name or word.
Commonly the "1" can be used in place of an "I" as they appear identically under the UK's number plate font.
A "6" on the other hand can be used in place of "G", "B", "E", "A", "S" and others.
This opens up a lot of options for the public, especially those with names like "Wright", "Briggs", "Knight" and others that may others be difficult to find on a number plate.
Other popular ideas include JA16 UAR (Jaguar), TR16 GER (Trigger) and LE16 END (Legend).
16-reg number plates will be able to go on vehicles first registered in March 2016 or after. If your vehicle is older than this you will not be able to use it straight away, however you will receive the number plate on retention that is valid for 10 years so you can keep it until you are ready.
How To Order
National Numbers will be buying hundreds of 16 registrations on the morning of release for our customers, our partners, and ourselves.
To be included on our buying list all you need to do is give us a call to register your interest with a small deposit.
We will only take an order if we know all parties are happy with the agreement and would require the total balance within the week before the official release date.
Be assured that you do not lose anything in ordering with us as you will get all your money back if we do not buy the number plate for you.
We will only act on behalf of one customer per plate, but there is nothing stopping you placing multiple orders if you want to buy more than one.
Frequently Asked Questions
Why order a 16-reg from National Numbers?
Simply put National Numbers has the best success rate out of any other party in the country, and we will stand by that. We don't claim to be perfect but we get most of the plates we go for. For example at the last major release for the 15-Series we had a success rate of 93% on the plates we were attempting to buy. We have maintained an average success rate of over 90% each year since the A release in 1983 – which is amazing considering how much we have grown since then.
How is National Numbers so successful on release days?
We don't reveal our secrets (it is a very competitive market after all), but when it comes down to it we can accredit our success to experience. Very few people in the country have bought from every release since the first in 1983 and it is this opportunity that through trial and error we have developed a winning technique. We never rest on our laurels either, we are constantly thinking of new ways to improve our system.
Am I guaranteed a number plate if I pre-order it?
Despite our success rate we cannot claim to be perfect. All we can guarantee is that we will be honest with you about your chances and will do our utmost to buy your plate for you. Ultimately number plates are sold on a first-come-first-served basis and we cannot promise we'll beat everyone else to your plate – especially if it is a popular one.
How does the release day work?
Release days are always hectic and exciting. At a set time in the morning all 16 number plates are released online. What usually happens at this point is the website crashes! Imagine buying tickets for Glastonbury – everyone tries to buy at once and that overloads the system to the point where it is very difficult to do anything. This is where we win out on our experience, while first-time buyers get lost.
Can I try to buy it myself?
There is nothing stopping you. In fact we encourage it just so you know how hard it is to buy on the day. We've had customers in the past that placed an order with us, other companies and even tried themselves just to give themselves the best chance – most people can't afford to do this though! Remember if National Numbers cannot supply the plate you want you get all your money back, so you don't lose anything by trying to buy it yourself.