After a six-week period of lockdown, people are starting to use their vehicles to return to work. Some, who used public transport before lockdown, are turning to car use as a way of social distancing. If you haven't used your vehicle for some time, then it is worth making a few checks.
Tax, Insurance and MOT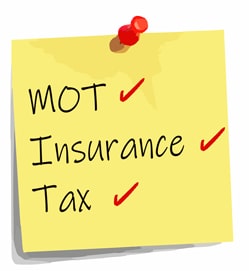 Make sure your car tax is up to date. If your tax is due you should have received a recent reminder (V11) or 'last chance' warning letter from DVLA. You can always check on-line.
Your insurance situation may have changed so check with your provider. Some insurance companies are offering refunds, payment holidays and cheaper premiums. See the advice Which? has on this.
The government has announced a 6-month exemption from the MOT test, although your car must be kept in a roadworthy condition. Seven days before your MOT is due to expire, it should be updated for a further six months. You can check this on-line. If it has not been extended, you will need to contact the DVLA.
Before you start the car
You need to check tyre pressures at the first opportunity. Ideally you should check them when they are cold. When the air in a tyre heats up it will expand and the pressure will change, giving a higher reading.

Check under the bonnet to check that nothing has chewed through the pipes. Cats, squirrels and even snakes have been found making a home in the warm confines of a car engine.
Make sure all your fluid levels are topped up. Oil, brake fluid, power steering fluid and, to a lesser extent, transmission fluid can all be checked. There's plenty of helpful guidance to be found online as to how to do this.
Check your brakes including the handbrake this may have seized up if the car has been left with the handbrake on.
If your car doesn't start
There are many reasons why your car won't start. This list from the RAC details some of the more common ones along with advice on how to remedy things.
When a vehicle has been off the road, often the cause can be a flat battery and there have been many reports in the media of this being an issue for drivers after lockdown. Check what you can do if you have a flat battery.