Happy birthday to us, happy birthday to us, happy birthday dear us? Happy birthday to us! *Balloons rise*
If you hadn't noticed, it's our birthday, well, our anniversary, this year. Our fun-loving 20s are behind us and even our 30s, as we hit the big 4-0 and celebrate 40 years in the ever-changing world of DVLA number plates.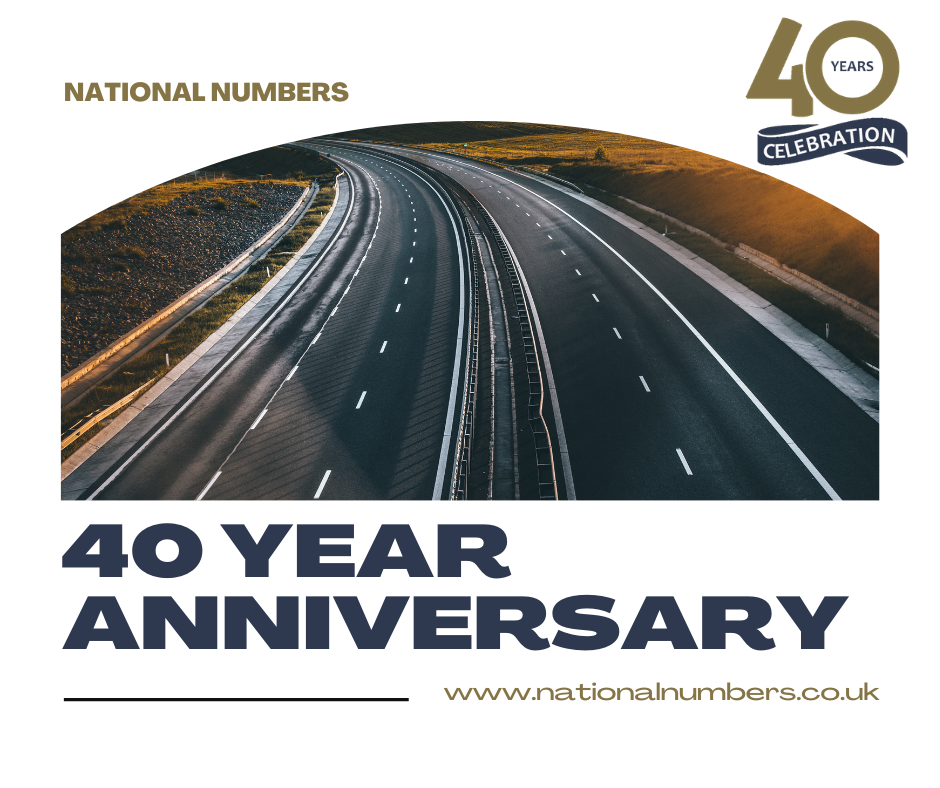 A lot has changed since National Numbers inception, and we're absolutely thrilled to have been operating as one of the country's leading number plate dealers since 1981. It means we're incredibly experienced and know the ins and out of the industry better than anyone, and it's also testament to the hard work we've put in over the years.
To celebrate our 40th anniversary, we've been sharing lots of infographics and factoids relating to the past 40 years on social media, looking at how the world has changed and how we've developed alongside it.
Right here on the NN blog, we're going to be featuring some anniversary content from our fantastic owners, past and present, to celebrate 40 years in business.
But for now, let's take a trip down memory lane and have a history lesson all about National Numbers, and how things have changed since the days we started out.
Humble Beginnings
Eric and Sue Craggs started National Numbers way back in 1981, after Sue ran into the back of a Ford Granada in her mini. What a way to start a business!
The Mini was written off, but little did they know it held a dateless PF cherished number plate, which turned out to be worth more than the car itself. It was here when Eric, ever the entrepreneur, had his lightbulb moment, and he swiftly set up the business from his kitchen and started to trade in number plates that were currently in circulation on UK roads.
A far cry from the advanced IT systems we now have in place, the original National Numbers featured handwritten deals and notes hung on hooks in Eric's kitchen, if you can believe that.
A fool-proof approach, or so he thought, until one day the kitchen door was left open, and the notes flew all over the house. Turns out this wasn't quite an advanced system, even though it was the only logical option at the time.
National Numbers' First Computer
So, it was back to the drawing board, and after much deliberation, Eric and Sue decided to take the leap and make the difficult decision to buy the company's first computer.
This was a time before computers were mainstream, so it was a massive leap to take, even though the machine they ended up with was pretty far off the standards of computing we use today. However, at the time, it was mind-blowing, new technology and helped boost NN's operations substantially.

Look at that! Beautiful.
Computer in place and with nothing on fire, next up came the database, which was created to accommodate the constantly growing list of registration plates for sale with National Numbers. This helped move the company even further forward, and alongside the first computer, is a key moment in NN's history.
Time passed and we became members of trade bodies, such as the CNDA, as well as achieving numerous accolades and quality kite marks, too. The demand kept growing and so did the business, until in 1989, the DVLA decided to make the most of the growing market and began releasing previously unissued government number plates for general sale.
Private Number Plate Growth in the 90s and Noughties
This move by the DVLA saw an enormous boom in the market, with an incredible amount of number plate registrations becoming available as opposed to the ones that were already in circulation, which was previously the pool to play with for dealers.
And with this change, of course, even more expansion by National Numbers followed.
During the 90s, the way to advertise the business was in physical publications such as exchange & Mart and Autotrader, which gave people the chance to find out about NN with full page ads filled with as many registration combinations as possible. Eric and Sue cracked on using this technique to great effect, with National Numbers becoming a huge part of the private number plate industry throughout the time period.
That was of course until, in the late 90s, when the internet happened…
This revolutionised the game yet again and the number plate industry blossomed into something resembling what it is today. National Numbers grew with the change and fast forward through the years and into the noughties, the business continued to expand and stand the test of time as one of the leaders in the private reg industry.
Handing Over The Reigns… Introducing Jepson & Co Ltd
In 2013, after 32 years of hard work and dedicated service to the private number plate industry, Eric and Sue retired from their roles as directors of National Numbers.
With a strong desire to ensure the company was kept in safe hands, they handed the reigns over to the perfect, and we mean absolutely perfect, partner. It was another family-ran business in the form of Jepson & Co Ltd, a leading number plate supplier who had been manufacturing physical registrations and signs since 1894.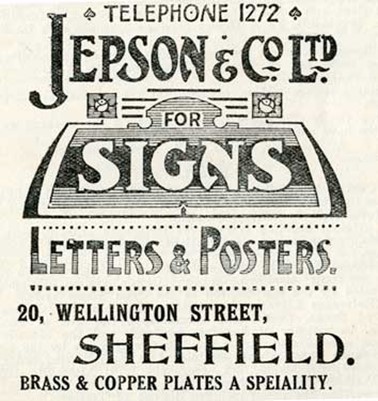 The company couldn't be in better hands with Jepson & Co Ltd, and the link between the two companies couldn't be clearer. As a business, Jepson & Co Ltd have their staff's best interest at heart and create the absolute best of the best when it comes to high quality number plates, so Eric and Sue felt more than comfortable with the new ownership and they could happily retire.
The two companies still work side-by-side to this day and continue to grow at exceptional levels, with National Numbers providing the knowledge to supply the legal rights to registrations, and Jepson & Co Ltd supplying the highest quality, physical number plates to match.
Also, as a sidenote, Eric hasn't completely finished with National Numbers. To this day, he is often found in the NN office in a consultancy capacity, which is fair enough considering his 40 years of experience!
What Else Has Changed in The Past 40 Years?
While National Numbers has developed from a two-man operation to an office full of staff working seven days a week, quite a lot has changed in the wider world, too.
Over on Facebook, the National Numbers Twitter page and Instagram, we've been sharing a few gems from the past 40 years. This helps to put into perspective just how far we've come in 40 years, and how much has changed.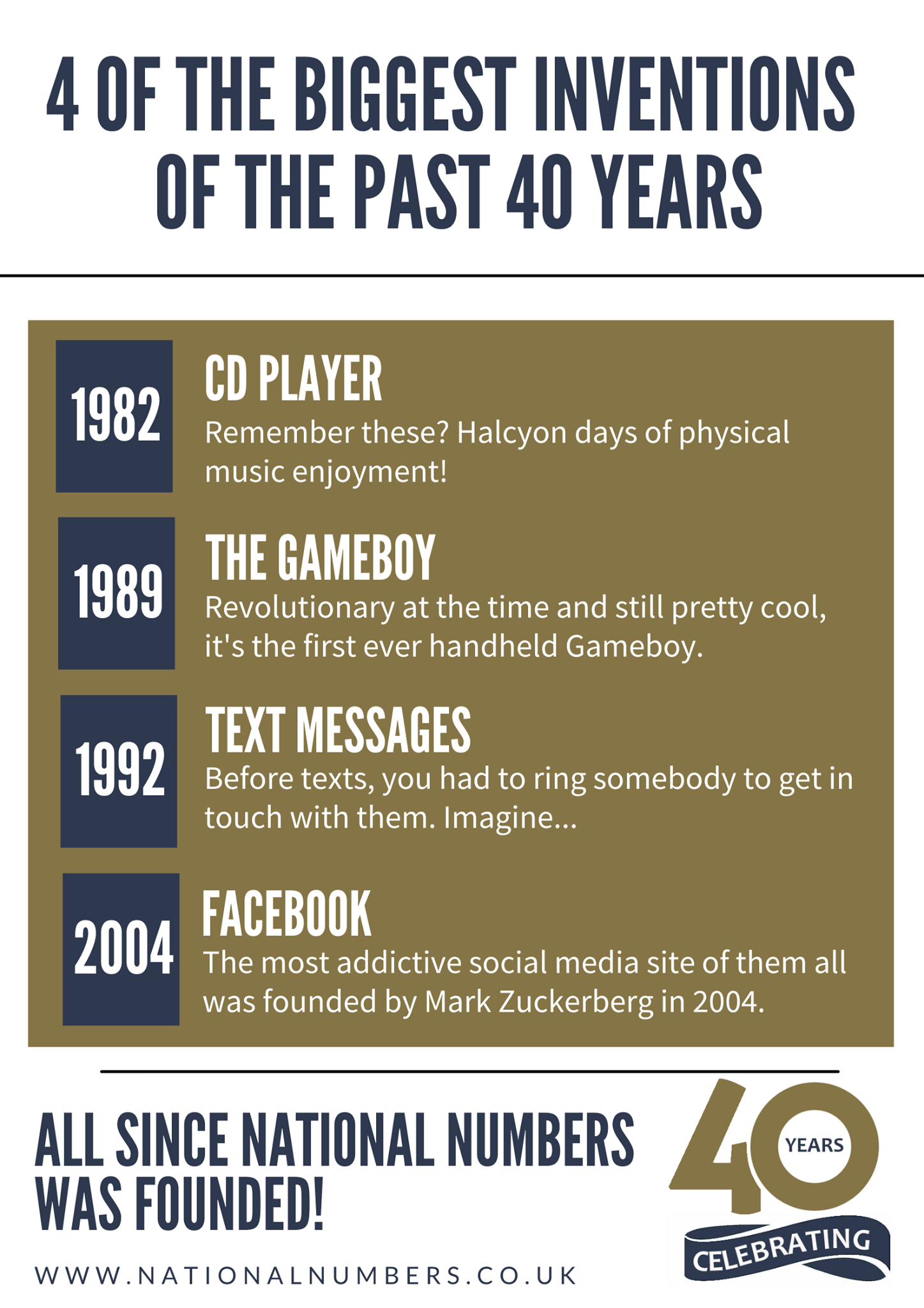 Find more at our Facebook Page, where we are doing weekly updates of everything from inventions to cool cars, as well as celebrity twins who also turn 40 in 2021, just like National Numbers.
Get in Touch
So, there you have it! A brief run down of one of the most well-known and well-established number plate dealers in the country. It's fair to say we've got bags of experience under our belts, and years of expertise in the private registration plate game.
This means that if you're in the market for a personalised registration, then you're clearly in the right place.
Search online for any private number plate combination, even if it's just a word or set of initials, and our advanced number plate search engine will provide you with a huge array of registration marks available to purchase. We also provide 0% finance across the board and we are certain we can provide you with a number plate you can be proud of.
You can also give our expert and friendly sales team a call on 01642 363738 for more information on your perfect number plate and to make an order.