Recently, one of the team spotted a cracking number plate that caught the eye of everybody in the office.
On its own, it was nothing spectacular, but the ingenious placement of a rogue R resonated with us and got us asking a few questions.
What would the police think about it? What would ANPR cameras do with it? And is it technically illegal?
We didn't come up with any real answers, but we did have a laugh. So, we've put together a blog of private plate suggestions where you can make the most of a dropped reg character.
C4(R) PET
The above plate is owned by Carpet Bright UK, a carpet cleaning London company.
This is an absolutely fantastic business number plate, and the one that gave us the idea for this blog. Look at it! A true work of art.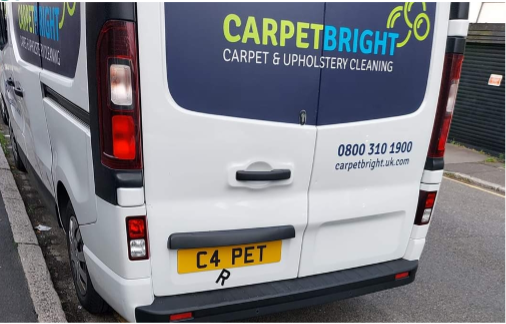 We're not sure what the police would have to say about this if they were to pull the van over, but technically, we don't think they're breaking any laws as the characters on the registration adhere to DVLA guidelines.
However, it'll almost definitely flummox any police officers, and God only knows what would happen to an ANPR camera should it try to scan this one.
Ideas on a postcard please!
B22(I) CKS
Brick merchants, we've got a plate that'll surely whet your appetite.
Not standing for much on its own, B22 CKS is a nice, cleaning looking plate, but with the simple addition of a dropped "I", and everything changes.
Perfect for bricklayers looking to boost brand awareness, or builders with a cheeky sense of humour, B22 CKS could help your business stand out amongst the competition.
Best of all? You can buy B22 CKS with National Numbers.
T3(R) ROR
Strike fear into fellow motorists with a terrifying dropped number plate.
T3 ROR very almost spells the word "terror", but you can perfect the registration with a cheeky dropped "R" hanging from the plate. You could even add some blood around the vehicle with some stickers, but we'll let your imagination run wild with that one.
So, if you're a big fan of horror films or Halloween, this dropped number plate idea could be one to jump on.
B22(I) GHT
Utilising a dropped "I" on the registration B22 GHT, you can shine on UK roads day and night.
Perfect for electricians, lighting specialists, or somebody who considers themselves on the intelligent side, you can buy B22 GHT with National Numbers online today.
However, we don't sell random letter "I" stickers - you'd have to source that yourself.
B4(N) GER
Do you have an old car that you love and won't let go? With every MOT, the list of issues gets longer, and the costs to fix these issues keep rising, but it holds a special place in your heart.
Show the world what you think of the banger in your life with B4 GER.
Then, simply add a dropped "N" below the registration and you're good to get a few laughs before your car kicks the bucket.
P2(I) NCE
Are you a fan of the musical legend? Maybe a fan of the Royal Family. Whatever your preference, a dropped "I" is an ingenious way to spell the word "prince" with a humble prefix number plate.
Since the letter "I" isn't allowed on UK number plates (other than Northern Irish registrations), this is also a clever way to incorporate a letter you simply wouldn't find on this style of reg.
L3(M) ONS
L3 ONS is pretty close to "lemons" or maybe even "lions", but if you drop an "M" in the gap between the 3 and the O (and under the reg!), you've got yourself a lemon registration.
We don't have L3 ONS in stock, unfortunately, but you can buy L23 ONS with National Numbers to achieve something pretty close to perfection for any lemon-lover.
D4(I) NKS
In Britain, we love a good drink. We're known for it around the world and it's something we've generally embraced. And while it's exactly something you want to shout about whilst driving, you could if you wanted to with this bevvy-loving dropped number plate.
Not only for those who enjoy a trip to the pub, this could also be great for drinks manufacturers or even moonshine companies, if they're still a thing?
Whoever you are, just add a dropped "I" to D4 NKS and you're onto a winner.
TT11(N) KER
Everyone's been accused of being a little tinker from time to time, so why not display it on your vehicle? If you can find the reg TT11 KER, a well-placed dropped "N" could seal the deal.
Peter Pan fairy fans could also take it to the next level and add "BELL" to the side of the registration, which would certainly get a laugh from fellow motorists.
It probably wouldn't get much of a laugh from the DVLA, mind you!
Buy private number plates with National Numbers
If you have any other ideas for dropped number plates, please get in touch.
Alternatively, if you want to buy yourself a standard, road-legal UK private number plate, look no further than National Numbers.
With over 73 combinations to choose from and over 40 years' worth of experience, National Numbers is the perfect place to bag the perfect private plate.
Search for your personalised registration here or call our sales team on 01642 363738 for inspiration and advice. You can also use our dedicated private number plate builder to really get your imagination rolling.