Customer Number Plate Story: OOO 33 and OOO 333
Number Plate Story OOO 33 and OOO 333 - Love and Money? How To Invest In Number Plates
The story of Mr. Garrett's dateless number plates and how he turned the pair of registrations into a great investment.
Is it possible to invest in something that isn't TESSA this, ISA that, and RPI the other? - In a currency we can all understand - something that says something about who we are, something that is fun, and which allows us choose to invest as little as £159, or as much as £500,000 - over whatever terms we please?
Get love and money from your investments? With number plates, certainly!
National Numbers Customer Robert Invests in Number Plates
National Numbers customer Robert Garrett from Epping in Essex is realising the value of investing in number plates. He recently put up his cherished registrations OOO 333 and OOO 33 for sale on the National Numbers web site. The plates will be offered at a tidy £50,000 for the pair.
Whilst by no means small, even registrations costing £50,000 are dwarfed by the giant CEO 1 plate sold via eBay for £154,000 recently. Undoubtedly, number plates are attracting larger and larger sums of money - yet you can pick one up for as little as £159 from National Numbers.
In the days before number plates were a desirable personalisation, the private registrations cost Robert's family a lot less than they would today. The reg were bought on vehicles and the entire package cost paltry sums of money, even in the 1960's! What was esteemed purely for its sentimental value has matured into a prudent asset for Robert: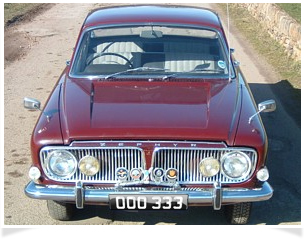 "My Dad acquired 000 333 first. It was bought on a Ford Zephyr 6 for just £25 for both the plate and car! The reg was then transferred onto our family's Jenson Interceptor, where it lived until the car's sale in 1980 with the number still registered. Luckily, realising the sentimental value of the plate, my family tracked the car down and got the car and number back for £250 – a job well done considering the current value of the registration!"
Robert's Mum went on to acquire OOO 33 on a Triumph Herald that the family paid just £250 for. In 1994 his mother made a gift of OOO 33 to Mr. Garrett, who now has the plate on his Range Rover.
An astonishing story and many thanks go to Robert for sharing it. I know he's thinking of reinvesting the money back into number plates: he mentioned using our web site's plate search to track down some cherished registrations that match his initials.
---
What's Hidden In Your Attic?
We often speak to customers whose families have held cherished numbers for years – the registrations become heirlooms that get passed down from generation to generation and increase in value as time goes on.
Maybe you or your family still own a registration on a car that may have been scrapped but not declared off the road? Might there be a registration on a retention certificate somewhere gathering dust in your loft? Have you got any old cars with dateless reg scattering your property? You'd be surprised where private number plates turn up!
Personally, I wish I'd have cared more about number plates for investment when I was ten years old, and using my Grandfather's abandoned Morris Minor 1000, complete with dateless registration, as a climbing frame!
---
Making Number Plate Investment Work
So we've seen how it worked for Mr. Garrett, but how can anyone make money from number plates? And with a number of types of registration, how do we choose one that will bring the best return on investment and increase in value over time?
If you're not lucky enough to have the odd heirloom knocking around, the best place to start is with a dateless, or cherished registration search on the National Numbers web site. These registrations span the period 1904 to 1963, and make the best investments, as their value doesn't decrease over time. Unlike traditional investments, such as shares, and even antiques, they don't need any attention or care during the time medium to long-term in which they are held. Better still, when you get around to selling the registration, you might just find a buyer who's willing to pay a lot more than you paid for something really personal to them.
And when the time comes for you to sell your plate, our Instant and Free Online Number Plate Valuation Service will give you a instant and accurate online value.
The registration doesn't have to include your initials, but choosing a reg to match your own initials is a popular theme for your number plate and, for investment purposes, certainly not one to be overlooked.
---
What Factors Influence the Value of Number Plates?

If academic authority on the subject would help, here is an excerpt from Warwick University's recent research on what influences the worth of a registration:
A surname is the most valuable characteristic, increasing worth by £1300
A number 1 or the letter S can increase worth by £1000
An F lowers the value
Adding a letter reduces the rarity of a plate more than adding a number
Wise advice. Of course, the shorter the number the greater the value: for instance, National Numbers own the number plate EC 5, which we are offering for sale at £40,000 on our web site.
Make it Work for You!
It's all very well and good talking about investment. But what if you've never invested before? You don't have to be loaded to take advantage! Our prices start at just £159.
LESS MONEY, LITTLE TIME
Invest short term
Spend as little £159
Frequently buy and sell registrations without transferring to a vehicle
MORE MONEY, MORE TIME
Invest long term
Spend as much as £150,000
Spend a larger sum on a registration to keep long term
National Numbers will advise which registrations are more likely to stand the test of time. We can provide you with as much help as you need when it comes to choosing a registration that will not only retain its value, but increase in value over time and of course give you all the enjoyment of owning a private registration that is personally pleasing - one you'll love to display on your car!
The Next Step
Hopefully this information will introduce the potential of investing in number plates.
National Numbers are always here to help. Our web site is available 24 hours a day, every day, and makes the entire process of choosing, buying, and financing your registration easy. And if the web's not your thing, just call our office. We're friendly, family-run, and know a lot about everything to do with number plates.
To talk specifically about investing in number plates, call and speak to Eric Craggs, our investment expert, on 01642 363738, or email sales@nngb.com 24 hours a day.