You can make a difference with your choices as a when purchasing a new car or vehicle. Several factors are important when choosing a vehicle to reduce negative environmental effects.
---
Consider Other Forms of Transport
There are many driving alternatives, especially if you live in an urban area. How about a car share or short-term car hire?
Also consider using public transport such as trains or buses, even taking a taxi helps reduce your carbon footprint.
---
Buying a Used Car
Buying a used car is alsomore environmentally friendly than buying a new one. Check the fuel efficiency rating of the vehicle before you buy it to maximise your positive effect on the environment.
---
Fuel Efficiency
You can save up to three months' worth of fuel by buying the most fuel efficient car in its class. These cars produce less harmful CO2 emissions and pay less tax, decreasing your carbon footprint and lowering emissions.
Use DVLA's car fuel data website to find out the fuel efficiency of vehicles.
---
The Fuel Economy Label
The Fuel Economy Label is a chart which shows the energy efficiency rating of new cars.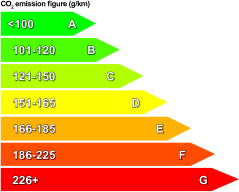 A vehicle will belong to a rating from green band A to red band G. Band A is the most fuel efficient. More fuel efficient cars pay less tax.
Always check the fuel economy label as even very similar cars can differ greatly in their fuel consumption.
---
Euro Numbers
Euro Numbers are a standard set for new cars against emissions for things like soot and nitrogen oxides. If a Euro Number is higher, this generally means the car is cleaner.
From 2011 Euro 5 standards must be met by all cars. In diesel cars, these kinds of emissions will be reduced to similar levels as petrol cars.
---
The Differences between Petrol and Diesel
Petrol engines produce more CO2 than diesels and are less fuel efficient; however, diesel engines emit more air pollutants like nitrogen oxides and soot.
New diesel cars may have a DPF, or diesel particulate filter, which reduces the pollutants from diesel engines. Garages can fit your vehicle with a DPF.
If a diesel car meets the current Euro 5 and future Euro 6 standards it will produce fewer pollutants.
---
Green Fuel Cars and Grants
Greener fuels for cars include electricity, bio fuel/bio gas and LPG. A Plug-In green car grant is available to help fund purchases of these kinds of cars.