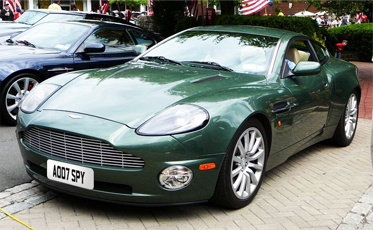 The DVLA's next number plate auction, held in Cheshire, sees some fantastic personalised number plates become available for the first time.
There's a registration to suit all kinds of people, places, spies, and lovers of summer races!
Good for the girls are an Allegra registration - A113 GRA and an Abbey registration - A88 BBY.
Two for the boys include an Aaron registration - A444 RON and a Bobby registration - BOB 333Y.
One of my favourite number plates up for auction is the registration AO07 SPY. This one certainly isn't for your eyes only – what a fantastic number plate! Maybe we'll see James Bond himself sporting this personalised number plate in his next film as the dashing spy, on a swanky car like the Aston Martin V12 Vanquish he drove in Die Another Day?
But the Gold Cup has to go to A55 COT, which looks just like Ascot!
With the Royal Ascot Races running till the 20th of June this year, how would you fancy a day at the races with this number plate? It would be a clear winner!
Now, where did I put the Pimm's?
Aston Martin Vanquish photo appears courtesy of Brett Weinstein using Creative Commons CC-BY-SA-2.5.