Yesterday we discussed why your business needs personalised registrations. Today we provide some examples of how businesses are using personalised number plates to increase exposure to their company or brand.
TAP 4S Barioja Spanish Tapas Restaurant
Spanish tapas bar Barioja uses a company vehicle for making short trips locally, collecting supplies and dropping off employees in the popular Historic Old Town in the centre of Edinburgh.
The car's personalised registration: TAP 4S ("tapas") – along with the signage, form an instantly recognisable combination that is both memorable and descriptive.
The car is seen by customers when it travels to and from destinations, and is also seen when parked outside the restaurant. The car travels where it can be seen by both visitors to and residents of Edinburgh.
Because of the car and its personalised registration, more people become aware of the Barioja tapas bar and the restaurant's brand becomes more widely known.
YE55 GAS Yes Gas Plumbing and Heating
Without a doubt, plumbing and heating company Yes Gas have a name which is memorable and catchy - and the perfect size for a personalised number plate!
From the photo it's easy to see how good the YE55 GAS number plate looks on their van.
This company van can be seen parked outside customer's houses and driving to and from jobs in and around the Middlesbrough and Stockton areas, which is good publicity for a company that services its local area.
The number plate helps to reinforce the company name and image. Hopefully when customers think of gas they think of Yes Gas!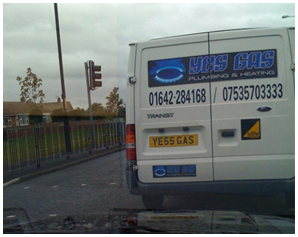 We will post more examples of number plates being used by businesses as and when we encounter them. Or send your own examples to us via our contact us page!