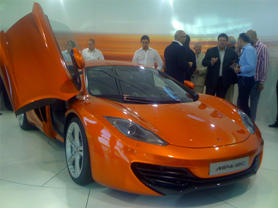 National Numbers Chairman Eric Craggs visited the McLaren premises in Woking, Surrey, to preview their newest sports car, the stunning MP4-12C.
Eric and about 70 other dedicated motor enthusiasts were personally invited to the £40 million McLaren Technology Centre (MTC), where they enjoyed a two-hour guided tour, a preview of the new McLaren MP4-12C, along with a champagne reception.
The MTC is stunning, and there are many reasons it's not your everyday car factory. The building accurately reflects the professionalism and attitude of the McLaren brand. When viewed from above, the stunning building forms the yin-yang symbol. But you'd only get to see this if you flew in by private helicopter or jet!
Inside, the MTC is fanatically immaculate; pristine white walls and glistening aluminium, with an almost clinical feel. It features many of the wow-factor touches that feature on McLaren cars, such as gull-wing doors.
The 'boulevard' feature McLaren's astounding trophy display, which is almost 50 metres long; along with millions of pounds' worth of historic racing cars.
It's safe to assume that this attention to detail comes from Ron Dennis, the executive chairman of McLaren, who started his career with the company as an F1 mechanic in the late Sixties.
The same care in design has been lovingly bestowed to the MP4-12C. Developed entirely in-house by McLaren, the car is likely to cost £175,000. It has a 3.8-litre V8 twin-turbo engine with 600 BHP and around 443 lb/ft of torque. The car is reported to be able to accelerate from 0 to 124 mph in under 10 seconds. Braking from 62 mph to zero can be done in less than 30 metres. Find out more about the car here.
Are you thinking of buying the MP4-12C? Whether you are, or just dreaming of it, National Numbers has some fitting numbers plates. AMP 412C would be an ideal registration, or how about MPH 12C: a great suffix registration for the car? MP 40 is another good plate, or how about a suffix search for MPH?
We have millions of registrations so why not search for number plates now?