The National Numbers iPhone app continues to go from strength to strength in the iTunes store. Just check out some of the recent comments from happy users:
"Great App (5 stars) - Brilliant app, I searched for plates on DVLA Registrations and no specific results. I used this app and there were loads. Recommend to anyone!!!"
"Fantastic free App for finding number plates (5 stars) - Very impressed with this App especially considering it's a freebie. It's the first I've found that allows you to browse available number plates. The search results are very comprehensive and it's very easy to submit an enquiry. I'm still trying to decide which plate to buy! I recommend it to anybody who's ever considered buying a plate!!"
"Excellent choice (5 stars) - First class so easy to used found what I wanted and bought it next day."
The app allows you to search 30 million personalised registrations from the palm of your hand. The app is free so you have nothing to lose and we hope lots to gain by searching now!
You can find it by searching for number plates from the iTunes store, or visit the page directly: iPhone number plate app.
So how does it work?
Click on the button to search for a name (e.g. Paul), initials (e.g. A, AA, AAA), any number (e.g. 911 etc), or any word you want to search for.
Or use the 30 categories designed to help you find your ideal number plate. We have included rude, funny, football, cheap, car and Irish number plates.
100 best matches to your search are clearly displayed and easy to read. When previewing a registration, you can see exactly how it will look on a car.
One you find a plate you're interested in, click enquire to immediately notify us you're interested in the plate.
Or, if you can't find what you're looking for click the Call Us button on the app.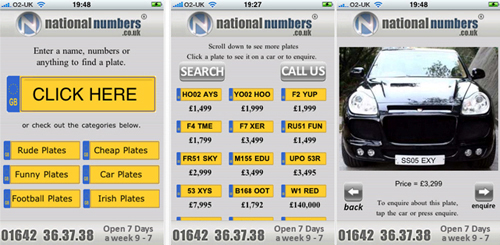 The app is compatible with iPhone, iPod Touch, and iPad. Check out our Number Plates for iPhone page to learn more about our number plate search app, or download the App directly, free of charge, from the iTunes Store.