In the wake of the epic Iron Man 3 and the delightful return of Tony Stark's signature Audi R8, National Numbers looks back in anger at the billionaire's spectacular collection of vehicles. Most of which, sadly, did not last long in the dangerous and explosive world of Marvel Films.

Audi R8
The superhero's go-to vehicle for everyday use is a belter. It is the one constant that has stuck with the movie franchise over the last few years, starting with the 2007 model in the original Iron Man film.
Iron Man 2 saw the arrival of the Audi R8 Spyder, a blissful soft-top version of the supercar.
The latest 2014 Audi R8 appeared several times in the third film, Iron Man 3, along with several other vehicles – news and classic – but none will likely have the staying power of the R8.
Audi's supercar is as sleek and stunning as Stark's own Iron Man armour, a perfect fit no doubt. A powerful 4.2-litre engine with 430 horsepower pushes this car from 0 to 62 miles per hour in 4.8 seconds and comes with permanent quattro four-wheel drive. German engineering at its finest.
1932 Ford Flathead Roadster
This classic vehicle has been popular for many years with restorers and modders, so it is no surprise that Tony Stark, a committed tinkerer, would come to own one. To many it is very sentimental car, as fathers and sons would traditionally bond together by trying to get one back on the road.
John Favreau, who directed the first Iron Man file, did so with his father and expected to do the same with Iron Man by actually donating his own 1932 Flathead to the film. He had a quick change of heart when he found out the crew needed to dismantle it for a scene though!
1967 Shelby Cobra
A lightweight, no trills, take-no-prisoners type of minimalist sports car designed by the Brits and powered by the Americans; it is a real achievement in both design and engineering. The front-mounted V8 engine certainly packs a punch also, going from 0-60 in 4.5 seconds.
It is a shame that this vehicle doesn't really get much attention in the film and ends up being crushed under the weight of Iron Man after a slight rocket-propulsion malfunction. By which I mean: he fell on it.
Saleen S7
It might be seldom seen in the Iron Man movies but you probably would have noticed the Saleen S7 thanks to its distinctive orange paint job. It has even been the centrepiece from time to time, finding pride of place amongst the collection. Going from 0-60mph in less than 3 seconds, the 750 horsepower machine is eye-catching and beautiful.
While it is nowhere to be seen in Iron Man 3, that is probably a good thing, as half of Stark's car collection actually end up falling into the ocean. What a waste.
Tesla Roadster
One of the more unusual cars in the rich genius's collection is the electric sportscar. While it is a nice touch, as Tony Stark does grow increasingly protective of the world around him, the car is actually seen amongst his collection early on. More than likely the man behind the Iron Man suit brought it in because of the advances in technology it represents. Plus, with a top speed of 125mph, who can say this won't satisfy the need for speed?
What is more impressive is that the Tesla was not even released when the first Iron Man film came out, so Tony Stark had this in his collection before most people could even think about driving one!
1953 Cadillac Series 62 & 1949 Mercury Coupe
As American as apple pie and just as classic, these vehicles made their debuts together in Iron Man 2, appearing in Tony Starks garage along with the rest of his collection (probably replacing the crushed Cobra).
Both vehicles come to be very respected amongst classic car collectors so it is only natural that the billionaire was in on the action.
I hope they got out of there before the accident …
Rolls-Royce Phantom
This large, luxury car gets a lot of attention in Iron Man 2. Perhaps too much attention as it ends up being cut in half by the super villain Whiplash.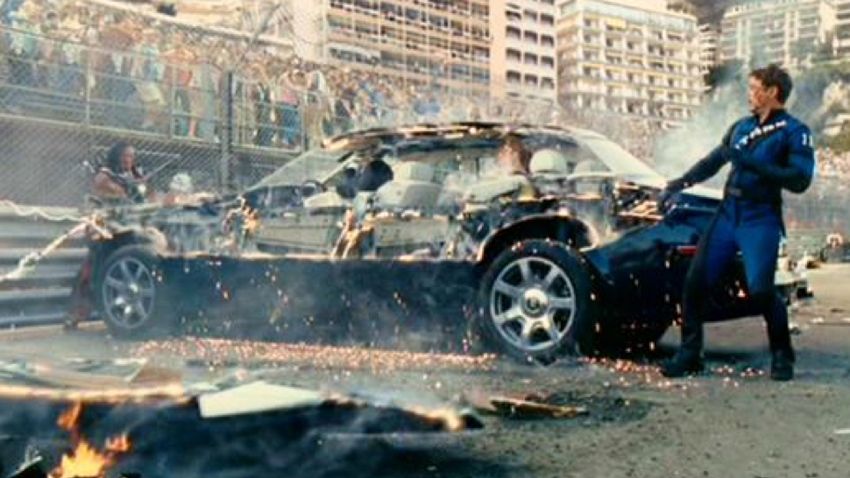 For a vehicle that is cool, sleek, sophisticated, powerful and worth a lot of money – a perfect vehicular representation of Tony Stark himself!
0-60 in less than six seconds, 453 horsepower, and 531 pound of torque, this is an awesome car.