There have been more than 2,500 number plate thefts across Merseyside over the last two years.
Criminals used stolen plates for a variety of crimes: from avoiding speeding fines armed robbery.
Some plates are also stolen out of vandalism and anti-social behaviour.
Most publicised though is petrol station thefts, as criminals use stolen or cloned number plates to steal petrol.
According the figures released by Merseyside Police, 2,611 number plate thefts have been reported in the last two years.
This includes 1,269 plates stolen between April 2014 and Match 2013, and 1,342 between April 2013 and March 2014.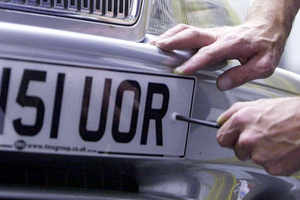 A spokesperson for Merseyside Police said: "In the last 12 months there has been a slight increase of 5% in thefts.
"Stolen number plates are allowing people to get away with driving offences including driving away from petrol stations without paying and evading speed camera fines.
"Fines are often sent to the innocent owner of a vehicle, which had its number plates stolen, and such cars are often used as getaway vehicles in more serious crimes."
240 individual thefts were recorded in the area of West Derby alone, making it the worst area for number plate related crime.