Pressed plates are metal number plates where the characters are raised off the background. If you have seen them on the road you know that they look very stylish, but the question is are they legal?
The answer is that it is all dependent on the age of the vehicle.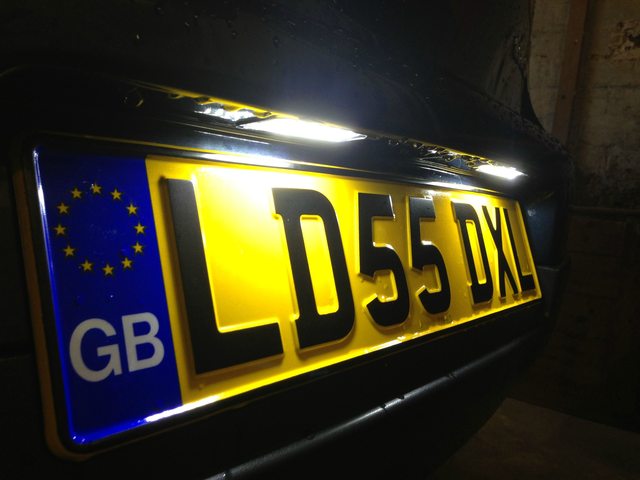 ---
Are pressed number plates legal for modern vehicles?
Guidelines for the display of number plates for vehicles registered from March 21st 2001 are detailed under British Standard BS AU 145d. As per these guidelines number plates must be made of reflective material (not retroactively made reflective by treatment). Aluminium, which traditionally makes up pressed number plates, does not meet this standard. In 2021, this changed to BS AU145e, with a more robust material introduced.
Another standard requires the material to be flexible, and must be able to spring back to its original shape if bent. Metal plates cannot do this.
These two requirements means that pressed metal number plates are effectively illegal for any modern vehicle.
Answer: No
---
Are pressed number plates legal for classic vehicles?
Vehicles from 1972 and before originally came with black pressed aluminium plates. There is nothing wrong with using these on this age of vehicle, however they are still bound by the display guidelines of the time that dictated the size and font of the characters.
Any vehicle registered before 1972 can have a traditional black and silver pressed number plates. These are made out of aluminium and are made retroactively reflective.
Pre-1950s vehicles can also have black and white acrylic painted aluminium plates as well. These have a slightly different size to the letters (this style came before the introduction of the suffix plate, and when that happened the DVLA had to shrink the letters slightly to make more room for an extra character).
Older still are the cast aluminium plates available to vehicles from the 1930s and before. These are made from molten aluminium with all characters and designs moulded in the same cast.
Answer: Yes
---
40 Year Exemption Rule
Prior to 2021, if you were lucky enough to own a pre-1973 classic or vintage vehicle you are entitled to an older style of plate.
However, things changed in 2021, with the rolling 40 year tax exemption rule preventing the sale of vintage (black/silver) plates to vehicles newer than 1980s models.
---
Where to buy pressed metal number plates?
If you have a suitable vehicle, you can have these plates manufactured by Framptons. They're able to supply all sorts of road legal classic variations - including the handpainted type, the cast aluminium type, the pressed aluminium type, raised riveted white type and more.