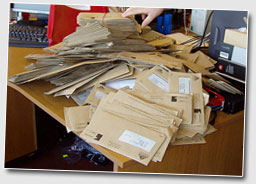 DVLA sent out all our 'F' -Release certificates today DVLA systems mean that each certificate has to be sent out individually and so our office was nearly buried under a deluge of brown envelopes.
We had great fun photographing the welcome arrival of our DVLA post.
Everyone swung into action to make sure we get the 'F' prefix private plates to our customers as soon as possible.
We hope all our hundreds of customers enjoy their newly acquired personalised plates at least they can flaunt their investment and at the moment, it's a safer way to invest than in a bank!
Meanwhile, have a look at our photos and if you are interested in an 'F' prefix private registration or indeed any othercherished number plate, please give us a call . Also we would be pleased to display any of your F reg stories. Let us know.
Thanks to the DVLA by the way for this morning's post.