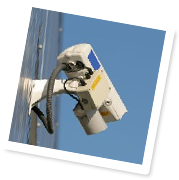 Locals in Somerset are stunned today following the upgrade of their CCTV cameras to a constantly monitored system which stores details of cars that pass through, and forwards the details to government agencies.
Weston Town Hall's investment in cutting edge equipment has promised to track residents' every move using sophisticated Automatic Number Plate Recognition (ANPR) technology, along with additional monitors at their CCTV headquarters, and a 42-inch plasma screen.
ANPR is a police initiative that is based on the premise that criminals need a car in order to conduct criminal activity. Every number plate that passes through an ANPR camera is scanned, logged, and referenced to a national database of registration plates and vehicles. The car registration is fed to various sources, including the Police National Computer, Driver and Vehicle Licensing Agency and insurance databases.
Previous schemes throughout the country have seen arrest figures soar - Thames Valley Police said arrests rose nine times when they installed the system.
But what about law abiding citizens who fear for their privacy through the use of such systems? What is the knock on effect of such a tightly controlled system?
In order to avoid surveillance or penalty charges, there has been an upsurge in car ringing and cloning, which we covered in an earlier news article, particularly in London.
The criminal need not worry if he is logged using someone else's registration, and again the good guy loses.
Reports from a Driver and Vehicle Licensing Agency (DVLA) trial showed that ANPR had an error rate of up to 40%, opening the door to the incorrect pointing of fingers towards innocent drivers.
But maybe this is a little serious – we do after all live in a democracy where we have the right to choose and where if we stick to the rules we have nothing to fear right?
So most of us have nothing to fear. But the very thought of misidentification using the system is fit to induce fear of 1984-esque proportions here in the UK, where every move is watched and we see the country nose-dive into an automated justice system.