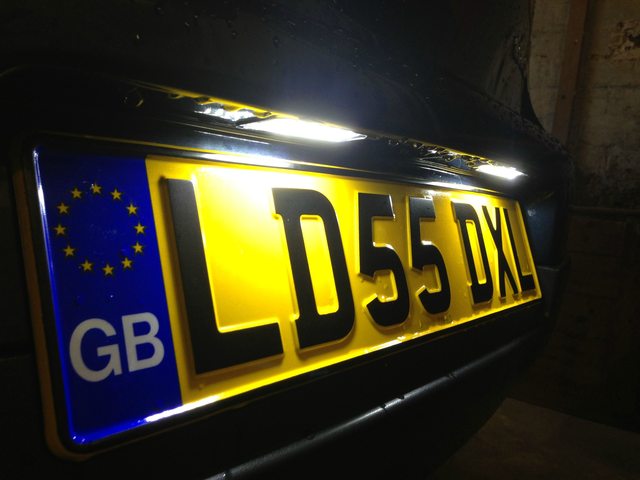 Today, we're talking about lights.
Specifically, lights for number plates, and the DVLA (AKA the Driver & Vehicle Licensing Agency) legislation that could be the difference between a road legal set of car registration plates or registration plates that don't adhere to British standards and are therefore not legal on UK roads.
We'll discuss the penalties of dodgy lights on your vehicle registration, what this might mean for your MOT, other rules around DVLA personalised registrations when it comes to digits and spacing, and also provide information about different registration mark formats, valuations, and FAQs about car number plates in general.
Let's jump in with a pretty important question considering the name of this blog.
What is a number plate light?
The number plate light is a small fixture on the back of your vehicle that shines light onto the rear number plate. Due to the plate's reflective property, it is illuminated by the light, allowing other vehicles to see it at a distance.
This is put in place for the safety of you and other road users, and makes your vehicle that bit more visible at night. It's also in place for the police and ANPR cameras, as it means they can read your reg even at night and match the registration number with the vehicle and registered keeper.
Is there a limit to the number of lights you can have on a DVLA number plate?
There are no restrictions to the number of car reg lights on your vehicle. The only requirement is that the rear number plate is sufficiently illuminated.
However, there are limits to other aspects of lights for registration plates, which we'll explore in more detail below.
Where do number plate lights need to be placed?
Lights for your registration number must be in a position where they sufficiently illuminate the rear number plate at night. As long as this is the case, there are no further restrictions to where the driver fixes the individual lights.
The most popular choice of number plate light placement is directly above and/or below the number plate, and in the indent in which the number plate is usually positioned. This is favoured for pretty obvious reasons as it best illuminates the registration mark if the light is centrally placed above the physical car registration plate.
Do you need to be able to see the light on the car?
No, you don't need to be able to see the physical light bulb for lights that illuminate car number plates, as long as it adequately shows the rear plate in the dark, that's all you need to worry about.
In fact the most popular number plate light is a dim LED option placed just above the number plate. These don't detract from the appearance of your number plates or vehicle.
Is there a limit to how powerful the lights can be for a DVLA number plate?
Currently, there are no restrictions to the wattage used in the lights or the intensity of the lights for DVLA number plates. Naturally, you don't want to blind other drivers, and fog lights would of course be excessive! Basically, small lights to light up the number plate are all you need, as it's a small surface area to cover.
If you ask at a shop like Halfords or search for vehicle registration lights, you'll find something suitable that won't blind fellow motorists.
Can I use any colour light for my car number plates?
No. While there are lots of lights available for car registration marks, you're only legally allowed to use white lights.
This is so there is no chance of distortion when the plate is illuminated, which could be the case with different colour lights that clash or blend in with the yellow background of a UK vehicle registration.
Do you need lights for private number plates?
The rules listed above regarding lights and registration plates also extend to all forms of private registration, current style, and Northern Ireland, number plates as well as those from general government stock.
They essentially extend to all car registration formats, from dateless to suffix vehicle registrations and prefix number plates. This means that whether they're private plates or not, if they're from the Driver and Vehicle Licensing Agency, which all legal reg are in the UK, the rules still apply.
Buying private number plates in the UK
With lights for number plates covered, let's talk about buying a brand new private registration!
As a leading UK number plate supplier and recognised reseller of DVLA registrations, we have a range of plate styles and personalised number plate options available online today.
All transfer fees are applied automatically when you buy a private registration with National Numbers, and we make the entire transfer process as simple as possible by helping with certificates of entitlement and retention documents if required.
Buy number plates with National Numbers.
A simple checkout process from a leading number plate supplier
The checkout process when you buy a new registration with National Numbers is also simple and secure, and we accept debit and credit cards among other payment methods. All number plates with age identifiers need to match the age of your vehicle, which we can also help with if you need it, and we even offer replacement number plates if you damage or have your acrylic plates stolen.
Our team of experts are here to help you with the transfer process for your new registration, speaking to the DVLA on your behalf to ensure things run smoothly. All in all, our role is to not only find you the perfect new private plate, but to make the process as simple and stress-free as possible, with no complications.
So, if you're looking for a new number plate, take a look and
find the perfect plate today with National Numbers.