When you think of electric cars (EVs), a few things tend to come to mind: Long-winded charging rituals, a small Japanese car named after a bit of plant, measly mileage range, eerie silence replacing the majestic roar of pistons and flames, a peculiar real-life version of Iron Man called Elon Musk, and maybe somewhere near the bottom of the list; things like fuel-economy and the environment. Most of these things aren't all that exciting or particularly appealing, but is it time to start seeing things a little differently?
If you ask Porsche, then the answer's probably yes.
The New Kid on The Block
The German giants have been teasing their all new, all electric four door Taycan release for months to start afresh with aplomb in a new frontier for the automotive industry. Now, their prototypes are setting out their stall in a big way, recently one-upping Mr Musk by achieving the fastest four-door, all electric Nürburgring lap with a highly impressive (albeit eerily silent) 7m 42s.
Let's see how that measures up against a few of its four door, combustion engine-based counterparts: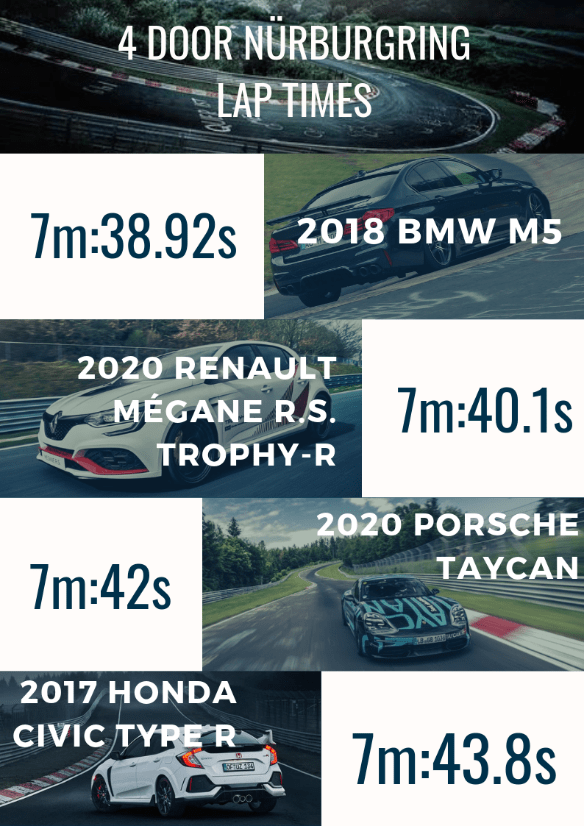 Not bad at all for a car with no engine.
With the Taycan release due in the early stages of September, certain facts and figures are coming out to really whet the appetite of petrol (or should that be battery?) heads across the world. Porsche have claimed a terrifying 0-60mph in 3 seconds, 0-124mph in 10 seconds, a top speed of 155mph, a 600bhp spread across two electric motors and a range between 250 and 300 miles. With all of this wrapped up in a 4-door family car you can take to the beach with the family, it certainly sounds a lot like a game changer.
And let's not forget, it's also a Porsche. This brings with it a sublime design and the added validity of some of the finest engineering in the industry, with an incredibly clever 800v setup producing minimal heat in the wiring and motors for a more consistent and reliable performance over extended periods of time. The Taycan also offers some seriously fast charging, with reports indicating a charge of 0-80% in 15 minutes - quicker than some of the queues at your local petrol station, and even quicker than charging your mobile phone.
On a whole, it seems that Porsche look to be at the forefront, leading the way when it comes to taking EVs seriously among the established car brands. The recent release of the Porsche 99x Electric attracted worldwide admiration for its incredible design and space-age new look, while the modified version of 919 Hybrid Le Mans winning race car also holds the overall Nürburgring lap record with a recorded time of 5m:19.55s (which is quite frankly ridiculous), in a bid to beat the other big names to the EV throne, and it seems like they're well on their way.
So, what about the competition?
Keeping Up with The Teslas
Elon Musk's Tesla is the go-to name in the EV game, having had a stronghold on the industry for a number of years, particularly with the Model 3. The Model 3 was released in 2017 as a four door, five seated family-car with a five-star safety rating. This is a family car with a twist however, as it provides the acceleration, handling and performance of a sports-car all while being affordable to "anyone looking to buy a new car" according to Musk, at around £30,000 for the standard range model.
It's all well and good but it's not exactly setting the world alight, (obviously, as it's electric), with its design and less than impressive exterior. Even with a nifty on board computer where you can set fart noises off from any seat and even set up a digital log fire on the dash, for some reason, the car's design doesn't look like anything all that special. In all honesty, it's a little soulless. It lacks a bit of character and attractiveness and certainly won't turn as many heads as say, a Porsche Cayman GT4, Carrera or even a Cayenne or Macan.
The second-generation Tesla Roadster, however, could change that and is scheduled for release in 2020. With a reported 0-60mph in a mind boggling 1.9 seconds and 0-100mph in 4.2 seconds, all packed in to a 4-door, three electric motor, all-wheel drive beast with a reported 620-mile range, this could change an ever-changing game even further. But let's wait and see how that one turns out before getting too excited. Musk is known for over-promising on occasion and even being slightly over-ambitious at times, so it's worth taking certain promises with a little pinch of salt.
With the tech seemingly catching up with the ambition of Tesla, and with European and worldwide governments cutting back on emissions to incentivise the industry into switch from fuel to electric, a lot of us have been waiting for the bigger car names to get on board and start providing a real alternative to Tesla. Porsche look set to do that with the Taycan, meaning that moving forward, the game will only get more interesting and other companies will have to get on board, or get left behind.
Should I Go Out and Get an EV?
Someday in the future it's likely that we'll all be in electric vehicles, or at least hybrids, but I think we're getting a little carried away for the moment. It's all well and good having an all new Tesla Model 3, silently gliding through the streets, ignoring inflating petrol prices as they simply do not affect you any longer, marauding around town in a machine with the outer appearance of a high-quality toaster, but what about the classics?
Look at the Porsche 911, or the Boxter, yes, they might use up valuable fossil fuels necessary for the survival of our planet and children, and their children, and their children's children and so on… But just look at them. They're beautiful. They might soon be relegated to the pages of history, they might soon become extinct and go from the forecourt to museums in years to come, but right now, right at this very moment, you can revel in the fact that you are around to experience one of the most beautiful pieces of engineering to ever grace the automotive industry.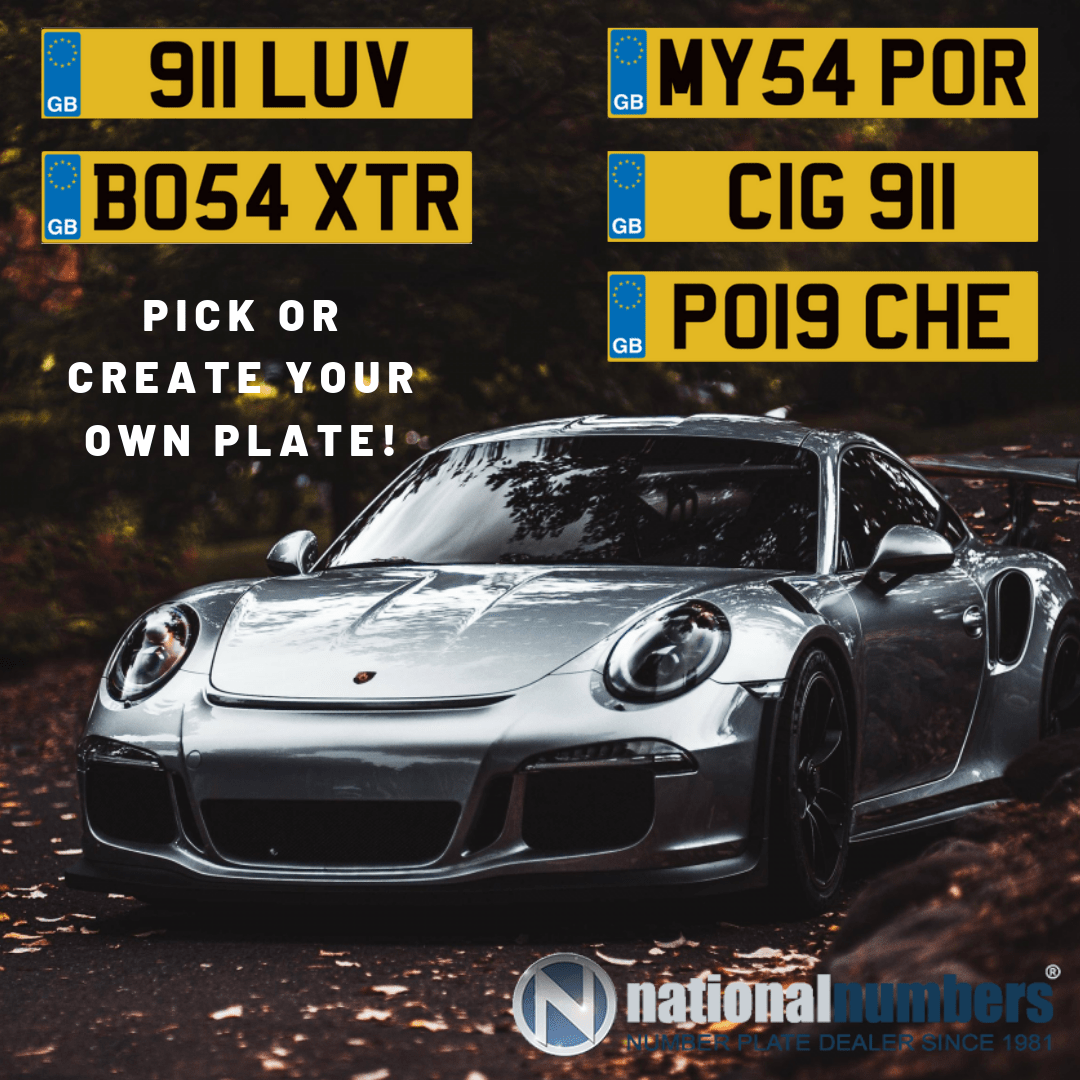 And what better way to show off your pride, your nostalgia, your joy, than with a private registration plate? Let's face it, you wouldn't put tomato ketchup on a Michelin star lobster dinner, so why would you settle for anything less than perfection with your number plate on your prized possession?
With so many plates to choose from for every driver, be it a 911 or Boxster, your initials or something a little humorous, National Numbers have got everything you need and can provide you with a personalised quote over the phone or online, 7 days a week.
Take a look at our range online and get in touch today.