The 73 series number plate release is almost here.
This means it's time to let you in on everything you need to know about the upcoming new style, or millennium style, number plate release.
From the kinds of plates available to the key dates for the 73 number plate release, as well as how to secure the perfect 73 series number plate as soon as they drop, we'll give you a full rundown of what to expect from a highly anticipated release date for private registrations in the UK.
Let's kick things off with the dates for the upcoming number plate release.
When is the 73 number plate release?
May 2023 is the month the DVLA will unleash a huge number of 73 series number plates into the UK market. In fact, millions of registration plate options will be released, all of which will be up for grabs immediately to motorists around the country.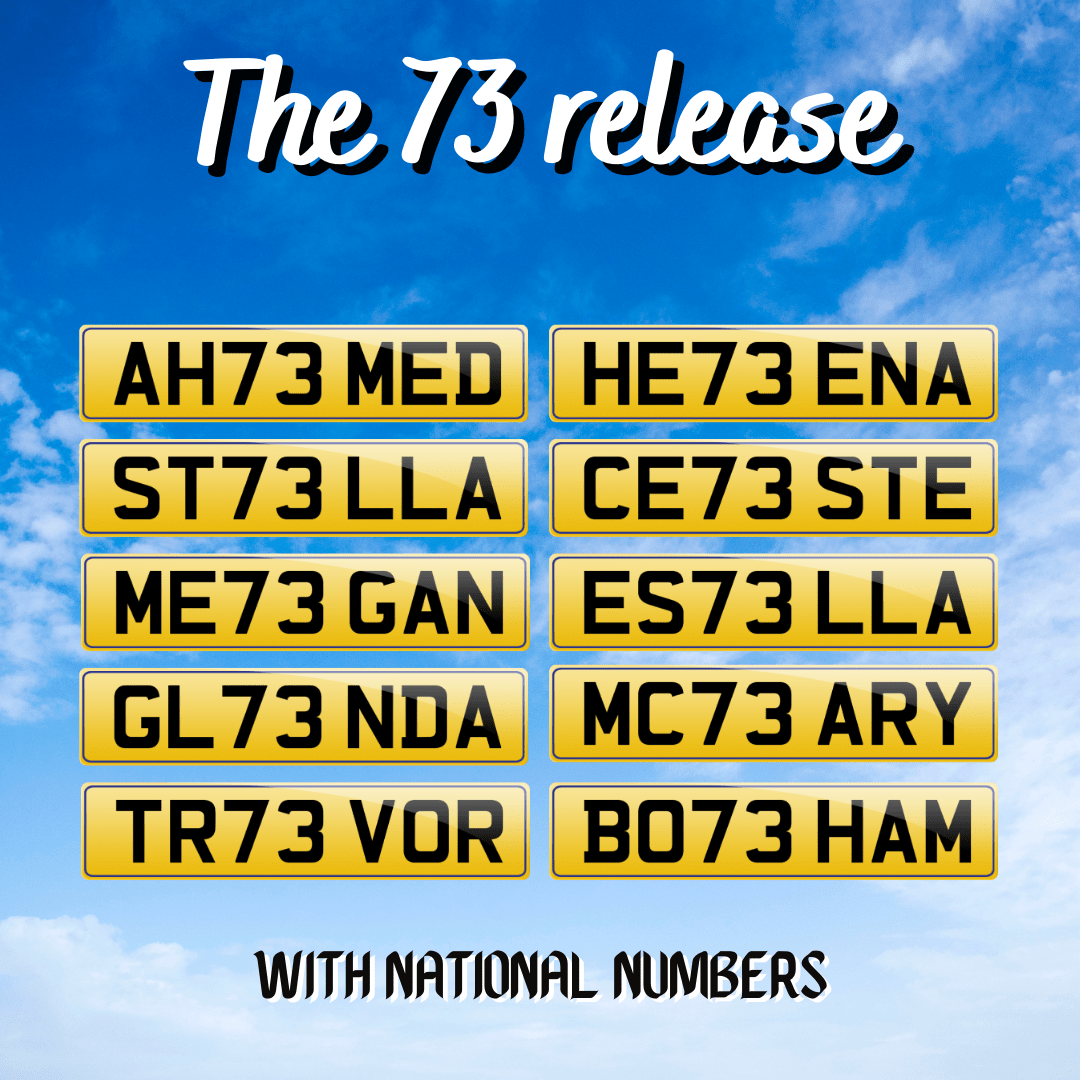 There are all kinds of variations available with this new 73 series release, from names to business titles, initials, and more, but how many number plates will be issued into circulation from May 2023?
How many 73 series registrations will be released?
The short answer to this one is pretty simple. Loads.
But to be more specific, almost 8,000,000 brand new number plates will instantly be made available in May for the 73 series number plate release. This is a pretty mind-blowing amount, and should alleviate any worries you have around finding a private registration combination that works for you.
Which brings us onto our next point, and a common question we get asked whenever number plate release dates roll round.
What kinds of 73 series number plates can I buy?
We're glad you asked!
There are lots of different number plate combinations available that fit with the 73 millennium style format, which means lots of options and opportunities to find something perfect for you or a loved one.
Take a look at the below graphic for a few options you can request from the upcoming number plate release.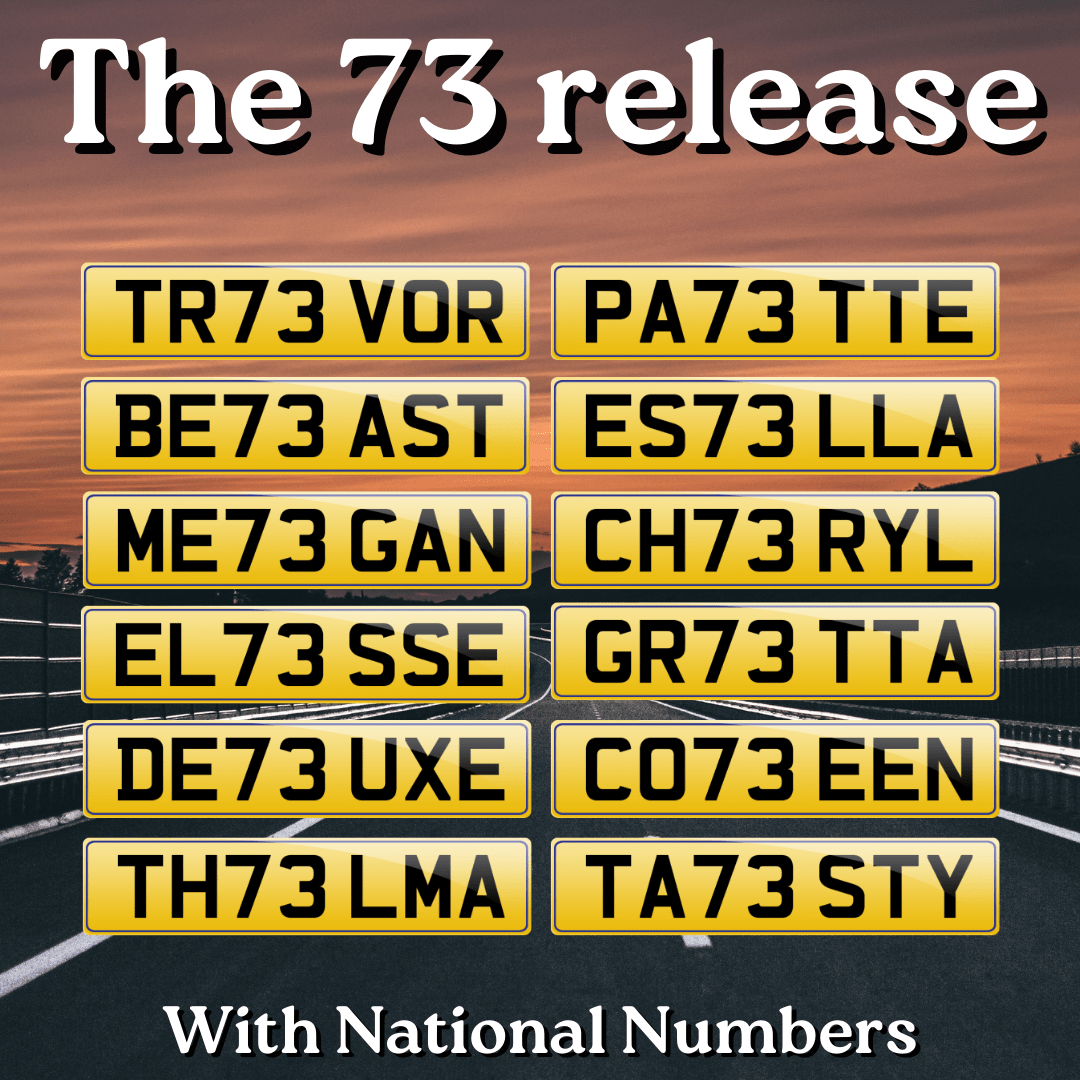 With National Numbers, you can also build your own 73 number plate, and request that we secure it for you when the time comes.
Build your own 73 number plate here, and we'll also provide you with more information on how that process pans out.
How do I request a 73 series private number plate?
The process of requesting a 73 series private number plate couldn't be simpler than with National Numbers.
With a fantastic opportunity to secure a brilliant number plate, you'll be able to find the perfect name registration, initial number plate, business number plate, or anything else you want.
For more information and inspiration about the kinds of 73 number plate combinations you can request, visit our dedicated 73 release website page.
Why choose National Numbers to buy a 73 series registration?
First of all, we've been in business for over 40 years, and are one of the oldest, trusted, and most capable number plate dealers in the entire UK.
We also have a superb track record for securing private registrations for our customers, which makes sense considering we've been doing it since the A series back in 1983!
It's this immense experience that has enabled us to develop an unbeatable method for buying the best registrations on release day, and it's why we're able to fulfil orders most companies and individuals struggle to achieve themselves.
In fact, our success rate is 98% when it comes to fulfilling order requests for number plate releases, which speaks for itself.
Register interest in a 73 number plate, or buy any other kind of personalised registration today, with National Numbers.
To register interest in the upcoming 73 number plate series, click here.
We also have a huge selection of private number plates available, over 64 million combinations to be precise, available to buy online from our website. With finance options in abundance and every number plate style you can imagine, National Numbers is the best place to buy private registrations in the UK.
Buy private number plates with National Numbers at our website here.
You can also call our sales team on 01642 363738 for more information, or register your interest in a 73 series number plate here.