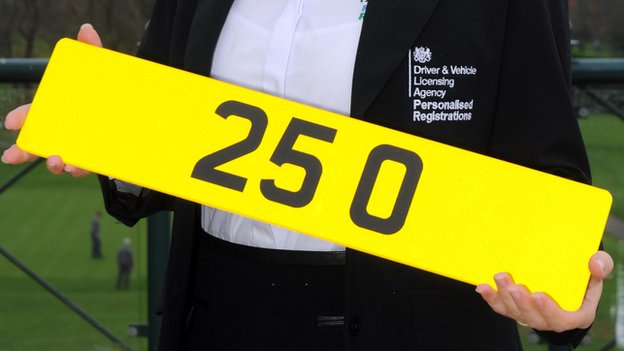 A classic Ferrari dealer has broken DVLA auction records with a winning bid of £400,000 on the number plate 25 O.
John Collins smashed the previous record of £285,000, set in 2009 by the buyer of 1 D, Nabil Bishara.
Collins, who owns Talacrest, a Ferrari dealership out of Berkshire, referred to his purchase as "the ultimate plate for the ultimate car".
'I decided I really wanted the plate and I wasn't going to stop bidding on it,' said Collins, who also successfully bought 250 L and 500 FER at the auction in Wales.
'Every time I put a bid in, the underbidder responded straight away. The plate could possibly have been the first £1 million personalised registration!'
Despite starting with a reserve of £4,000, 100 times less than the final bid, pre-auction postal bids immediately brought the starting price up to £50,000.
Interest was high in the number plate, which referred to the 250 model Ferrari, and the price quickly jumped beyond £300,000 before settling at £400k.
The 250 models are amongst the most valuable in the world, and includes the £10m Ferrari 250 GT SWB, £20m Ferrari 250 TR and £35m Ferrari 250 GTO.
'It is a lot of money, but I was calm as I have been in auction situations before where I have bid more than $20 million on a car.
'When the hammer went down I was really happy, it is a record for a DVLA registration plate.'
After fees, including 20% VAT, 8% buyer's premium and £80 DVLA transfer fee, Collins would have paid £518,480 in total for the private number plate.
'I am going to be putting it on a very special Ferrari 250 SWB which used to belong to Eric Clapton.
'I also bought '250L' which is going on a £2.25 million Ferrari 250 Lusso and '500 FER' which was a bargain at £3,000.'