Motorcycles, motorbikes, whatever you want to call them, if you own one, you probably want a number plate that matches the magnificence of your machine.
To help you avoid any pitfalls, today we'll give you all the information you need about motorcycle number plates in the UK. We'll cover everything there is to know, from the motorcycle number plate sizes available, the styles of motorcycle number plates on the market, the law surrounding motorcycle number plates, and where to get the best deals on motorcycle number plates.
Let's start with the law, and whether or not you need number plates on your motorcycle.
Do I need motorcycle number plates?
Basically, yes. As with any vehicle on British roads (and pretty much all roads in the world), you need number plates for your motorcycle. The reason is the same as needing them for a car, and that's to identify your mode of transportation. More specifically, it's to help the police identify your vehicle, as well as ANPR cameras.
Not only is it important to have motorcycle number plates to catch you out if you break the law, but it's also important if you're a victim of motorbike theft or some other criminal activity involving your bike. Motorcycle number plates are also necessary for tax and vehicle registration purposes.
What do motorcycle number plates look like?
As you've probably noticed, motorcycles aren't as wide as cars. This means that there isn't really the space for a regular sized, rectangular number plate on your motorbike. Maybe you could fit one on there with a bit of creative placement, but it won't look particularly good.
The alternative to a standard number plate is a 3x3 number plate, which is the standard for 4x4 vehicles and motorcycles in the UK. This number plate is a square instead of a rectangle, and is the one you generally find on motorcycles around the world. The reason being that these small motorcycle number plates fit perfectly on a motorbike as opposed to being too wide, and they just look better overall.
British number plate laws for motorcycle number plates.
The basic rule is you definitely need a number plate for your motorcycle, but there are more specifics to drill down on when it comes to UK law and motorcycle number plates.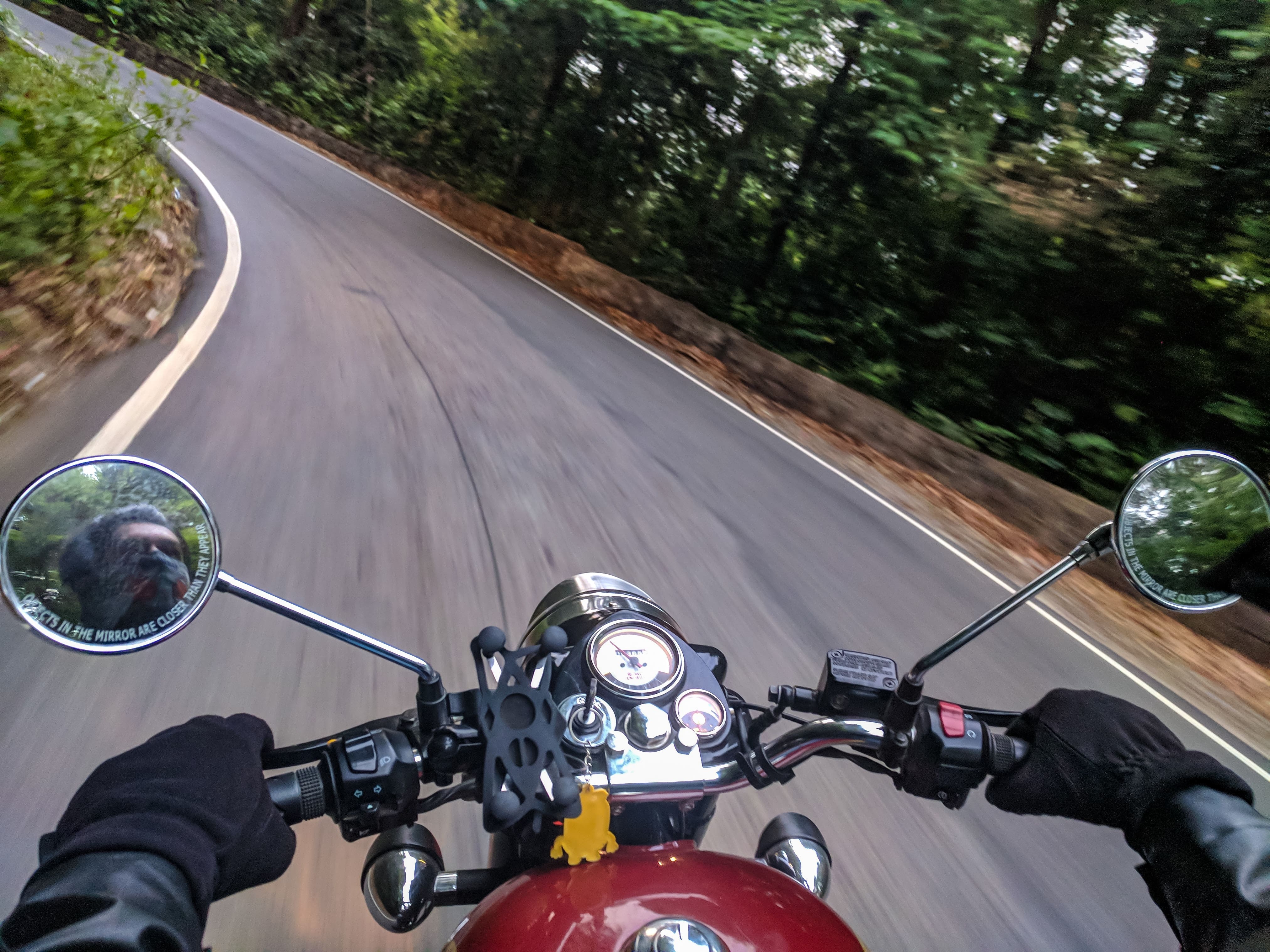 For example, if your motorcycle was registered on or after September 1st, 2001, the registration plate for your motorbike must only be displayed on the back of the bike. If it was registered before this date, you can display your motorcycle number plate on the front and back if you like, but there's no legal obligation to do so.
Then there's the new BSAU145e standard for number plates, which isn't just for cars, but motorbikes, too. We've talked all about the new standard for British number plates here, but let's see how it affects motorcycles.
The motorcycle number plate itself must now be 237 x 178mm, and the digits must be solid black, with no reflective colours. This means a big no-go for two-tone or 3D style letters or numbers on your motorcycle number plates.
Number plate artwork and borders also have new regulations, and the artwork you find at the bottom of your motorcycle number plate has to be between 3mm and 8mm in height and in one non-reflecting colour. Borders have a maximum thickness of 5mm and also have to be made of a singular, solid, non-reflective colour, and they can't be closer than 10mm to the number plate letters and numbers.
Finally, the BSAU145e mark has to be shown in the manufacturer's section of your motorcycle number plates. This is located at the bottom right hand corner of your reg, as you can see below.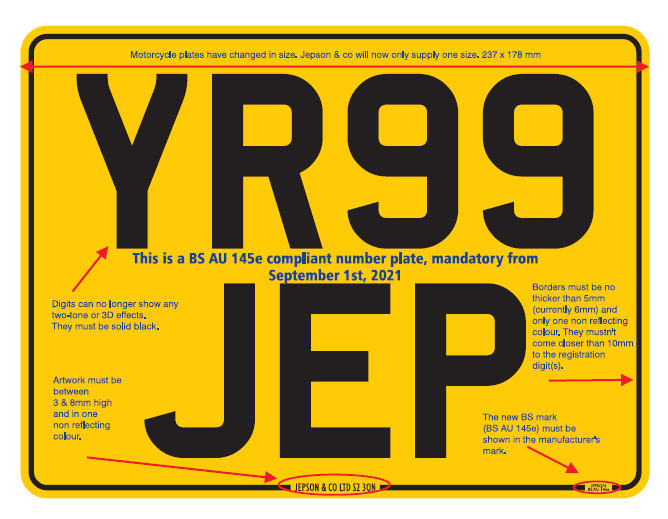 If your bike was registered before September 1st, 2021, you don't have to worry about the above regulations for your motorcycle number plates. However, any vehicle produced after this date, your registration plates need to match up to the BSAU145e standard.
Where to buy physical motorcycle number plates.
When it comes to the physical number plates for your motorcycle, you don't want to go with "companies" or people you might find on Facebook, Gumtree, or eBay. A lot of the physical plates these kinds of people sell aren't legal on UK roads, and are actually show plates with incorrectly spaced letters, incorrect materials, and dodgy colourings.
Using these kinds of number plates on your motorbike could leave you with a hefty fine and you could even have your motorcycle number plates taken away from you if you're caught flouting the rules.
There are lots of reputable companies who do sell the new BSAU145e standard number plates for motorcycles, however, and our parent company Jepson & Co Ltd have been producing these styles of plates since a year prior to them coming into the mainstream usage. This was to make sure they got it right when they became the norm, and Jepson & Co Ltd continue to lead the way with this form of number plate as this has happened in the UK.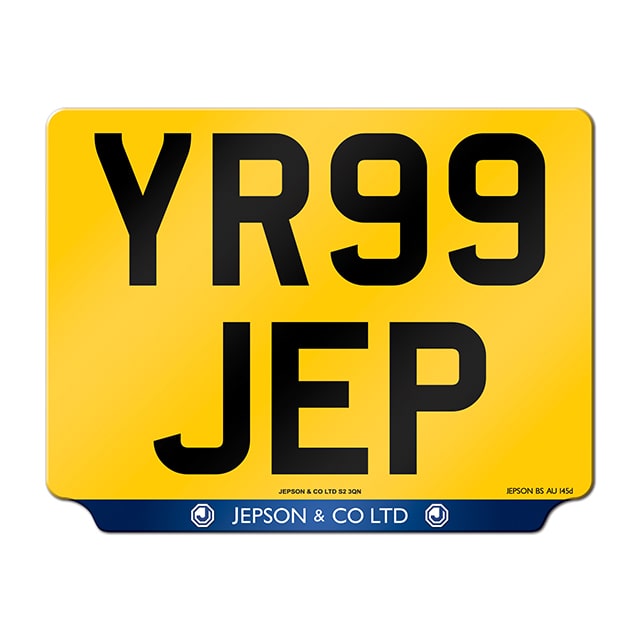 Luckily for you, if you buy a number plate with ourselves, you can add the option of square acrylic number plates courtesy of Jepson & Co Ltd that adhere to the BSAU145e standard.
Where to buy motorcycle number plates
The best place to buy the rights to motorcycle number plates is with a reputable dealer, one like National Numbers that has been in the industry for over 40 years, with a sales team that has vast experience in all forms of motorcycle number plates.
Give our friendly and knowledgeable sales team a call on 01642 363738 or visit our dedicated motorcycle number plate page.