The electric car is soon to be commonplace, but are you ready for it?
By 2030, the UK government will ban the sale of new vehicles that are powered by petrol or diesel. This is part of their net-zero emissions pledge to reduce our collective carbon footprint, with these vehicles being targeted as a leading contributor of greenhouse gas emissions.
This means that fairly soon, your fossil fuel-powered car may become a thing of the past. Something to display in a museum, or something to be laughed at by those silently zipping by in their shiny electric vehicles. So, the question (that should be) on everybody's lips is "can I convert my car to electric?"
In this blog, we'll answer this question in detail, covering everything from the best cars to convert, the best electric car conversion companies in the UK, the cost of converting a car to electric, the paperwork required, and how to do it yourself.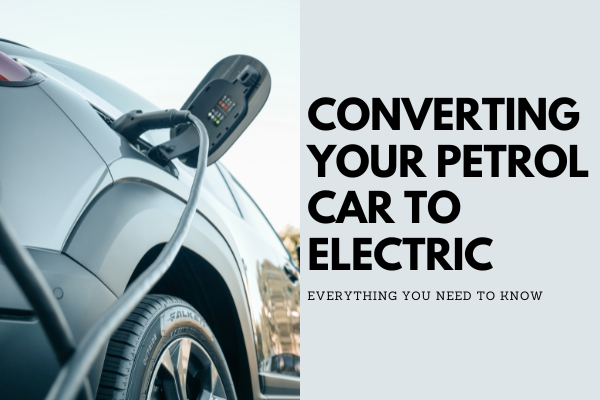 Electric car conversion – is it possible?
To answer the question, can I convert my car to electric? The answer is yes! It's possible to convert a petrol vehicle to electric, but it's not straightforward and requires retrofitting.
For most people, electric car conversion isn't something you can handle in your garage, however, there are companies who specialise in electric car conversion. For example, Electron Garage are an electric car conversion company, who convert classic cars into electric vehicles, as do Electric Classic Cars, with both companies based in the UK. New Electric are an electric car conversion specialist based in Northern Ireland who claim to be able to convert your electric vehicle for a mere £900, which is substantially cheaper than most companies on the market, but more on that later.
There are also electric car conversion kits available, examples of which can be found here, which allow you to convert your petrol car to electric yourself. You can view a comprehensive list of electric car conversion companies and kits at the following AutoExpress link.
What paperwork is required for electric car conversion?
If you're looking to convert your petrol vehicle to electric, there are certain prerequisites from a legal standpoint to consider. Firstly, you'll need to re-register your vehicle with the DVLA as "radically altered", which you can do at the DVLA website.
Final approval from the DVLA can be long-winded and complicated, so it's also a good idea to provide evidence in the form of photos of the electric car conversion process, as well as all receipts for works carried out. Oh, and don't forget to keep hold of the original registration documents for your vehicle.
Which car models are easiest for electric car conversion?
Older air-cooled VWs and Porsches from the 1950s, 60s, and early 70s are among the easiest vehicles for converting petrol vehicle to electric, due to their size, weight, and ease of access for installations. Examples of the best models for conversion offered by these manufacturers include the Beetle, Squareback, Karman Ghia, as well as the Porsche 912 and 911 from those decades.
Newer vehicles that are relatively simple to convert include a range of hatchbacks, from the Honda Civic to the Suzuki Wagon-R, as well as the Hyundai Accent. An E-Type Jaguar would also be suitable for electric car conversion as there's space in the rear for the engine with the long bonnet being able to fit a number of large batteries.
Which kinds of vehicles are best for electric car conversion?
Batteries are a key component of any electric vehicle, so the best cars for electric car conversion are the ones with enough space to house one or more batteries. This space can come in the boot or under the seats, but it's important to remember that batteries should never be exposed as that's a pretty blatant safety hazard.
Then comes the weight of the vehicle, with the general rule of thumb being the lighter the better if you want to convert a petrol vehicle to electric. Not only will you get a higher mileage and range from a lighter vehicle, but you'll also reduce your power consumption. However, while lightness is favourable, the chassis of your car needs to be strong enough to handle the additional weight a battery brings after electric car conversion.
And finally, generally speaking, manual vehicles are easier to convert than automatic, because they're less complex to work on and also lighter.
How much does electric car conversion cost?
As usual with questions of this nature, the answer is "it depends". It depends on the make and model of your vehicle, its age, and how complex the electric car conversion is from a technical perspective.
The price to convert petrol cars to electric will also come down to the methods you use. For example, if you do it at home, not only will it cost a lot in terms of money, as you'll need to source batteries and all the correct electronics and equipment to make it roadworthy and safe, but it'll also take a lot of time.
If you take it to a professional, it will probably cost less, and you'll also be more confident in the quality of the job done. Overall, you're likely to pay at least £1,000 for a car conversion that's simple and on a modern vehicle, but for something more rare or old, you'll be looking at anywhere between £10,000 and £30,000.
Electric vehicle number plates with National Numbers
So, there you have it. Everything you need to know about electric car conversion.
If you're lucky enough to already own an EV, or if you're in the market to convert your petrol vehicle to electric, you'll want an electric vehicle number plate to go with it, fully equipped with green flash to prove your green credentials.
You can browse our massive range of private number plates at our website, and give our sales experts a call on 01642 363738 to be kitted out with a green number plate. Please be aware, however, that your vehicle will need to meet the standards required for a green number plate (i.e. be zero emission), which we will discuss over the phone when we take you through the sales process of your physical number plates.