At National Numbers, we serve the entire country with the very best personalised number plates, and we have done since 1981.
We have customers from the top of Scotland to the deepest depths of Southern England, as well as everywhere either side and in between, which makes us one of the oldest and most trustworthy number plate dealers in the UK, with a strong reputation in the industry.
However, while we have customers across the United Kingdom, our head office is actually in Billingham, in the mighty Teesside. All of our sales and office team are Teesside born and bred (which is quite obvious if you've spoken to any of them on the phone) and we're proud of the area we call home.
So, in today's blog, we'll explore the very best Teesside number plates that we have in stock at National Numbers. We'll also show you how to buy these number plates, and the finance options available for each of them.
Let's kick things off with a football-themed Teesside number plate.
UTB 80Y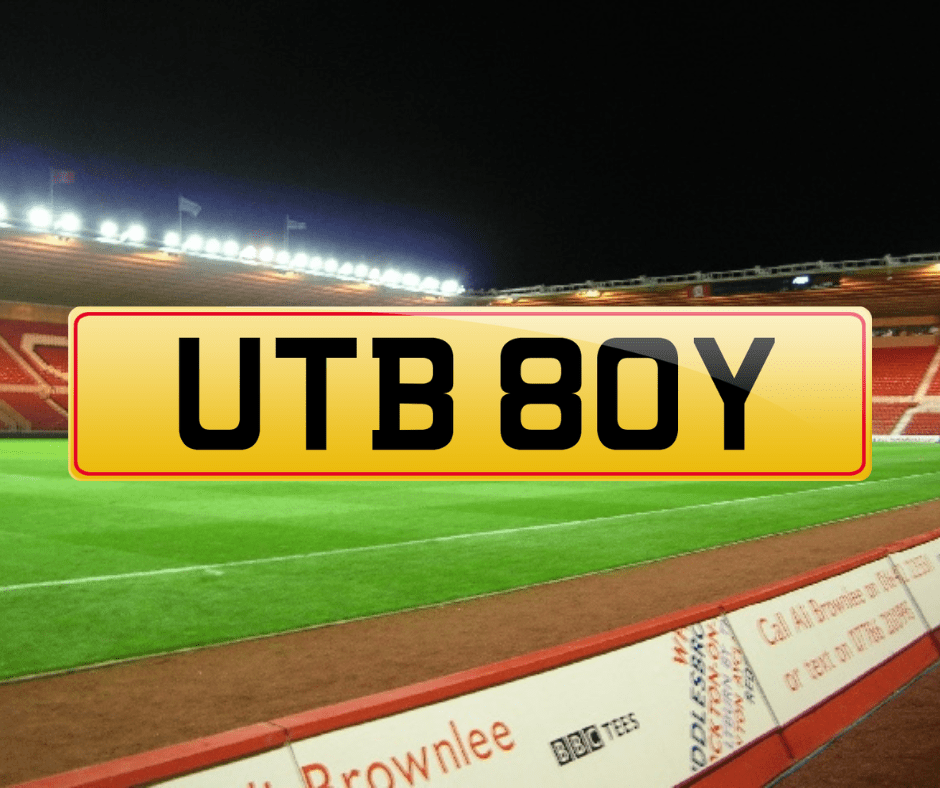 Starting with a classic Boro phrase "UTB", which for the layman, means Up The Boro, this plate perfectly represents any boy's love for the finest footballing team in the North East, if not the world.
And if you're not in the market for a personalised number plate, UTB 80Y also makes a brilliant gift for a male Boro fan in your life, given how well the 8 is used to spell the word "boy".
What's more, you won't find UTB 80Y cheaper anywhere else because it's a stock National Numbers plate, and we have a range of finance options available to help you spread the cost.
Speaking of cost, this fantastic, personalised registration will set you back £1,999, which is absolutely "mint" if we do say so ourselves.
Buy UTB 80Y online today or give our sales team a call on 01642 363738 for more options.
BO20 BOY
Another one for the boys out there is this impeccable Teesside plate, BO20 BOY.
Clearly spelling "Boro Boy" without resorting to illegal spacing, you'll struggle to find a number plate that spells two words this well. The 2 has long been the preferred way of representing the letter R on number plates, which makes this one of the best on the list, and the only reason for its ranking at number 9 is the fact that it's specific to the male gender.
You can buy this brilliant number plate for yourself or a male Middlesbrough fan in your life for £1,999, which again, is proper mint if you ask one of our sales team, who you can speak to by calling 01642 363738.
SM20 GGY
Smoggy was originally used as an insult to the people of Middlesbrough, and was conjured up by rival (and obviously jealous) football fans.
It's in reference to the chemical works in Billingham and the wider Teesside area, and it was used as an insult alongside other terms such as "smog monster". Not ones to suffer defeat, however, Teessiders proudly took ownership of the insult and today, it's a term of endearment for locals and Boro supporters.
And now, you can prove to the world that you're a smoggy and proud with this excellent smoggy plate, which you can buy online for only £1,999. You can also add an extra layer of smogginess by speaking to one of our Teessider sales team members on 01642 363738, or you can just buy SM20 GGY online at the National Numbers website.
BO20 FAN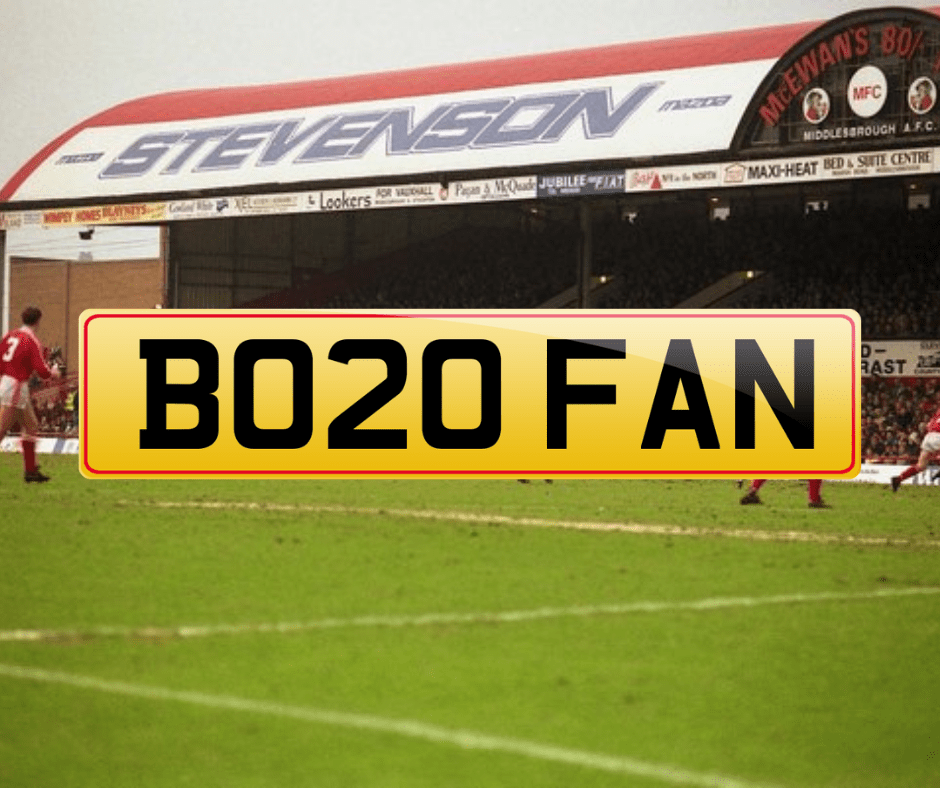 Another expertly spelled Boro number plate, BO20 FAN lets other drivers know exactly where you stand when it comes to the football team you support.
Perfect for a trip to Newcastle or Sunderland, or just to spread the love with your fellow Teessiders on your way to The Riverside Stadium, this one is undoubtedly one of the best Middlesbrough private number plates on the market. It's also exclusively available with National Numbers.
Buy BO20 FAN online today for £2,499 and for more information about your options or to speak to a number plate expert, give our sales team a call on 01642 363738.
MR18 ORO
We're getting into the big leagues now, with a number plate fit for a Teesside or Middlesbrough legend. But we're not talking Bernie Slaven, Steve Gibson, or even Juninho, and we're definitely not talking Gordon Strachan, we're talking you!
This is because you can get this excellent Boro private number plate and show your fellow motorists who is Mr Middlesbrough for a mere £4,999. You can also spread the cost with a range of finance options by buying online at our website, or you can give our sales team a call on 01642 363738 for more information.
Oh, and if you're reading Mr Juninho, give us a ring regardless of if you want a number plate, because we love you.
BO20 MAD
Are you a regular at The Riverside? Maybe you follow them up and down the country from ground to ground. Some would say you'd be mad to go to any matches up until recently, so why not show off your madness, or love, for the mighty Boro with this superb private registration.
Available for £2,499, you can buy BO20 MAD online today with National Numbers and show everyone just how you feel about the team they call The Boro.
BO20 LAD
Another one utilising "BO20" comes in the form of BO20 LAD, perfect for a birthday present for your son, nephew, grandson, husband, boyfriend, or even for yourself. Don't forget, you can buy private number plates as gifts before your loved one is able to drive, so this could be a fantastic incentive to get them to pass their test when the time comes.
And let's be honest, if they're a bit young to be driving right now, we'll probably be in a better position than we are as a club at the moment, so they'll be even prouder of their number plate and local team when they can actually use it on the roads.
Buy BO20 LAD with National Numbers at this link for £1,999, or call our sales team on 01642 363738 today for more information.
SM70 GGY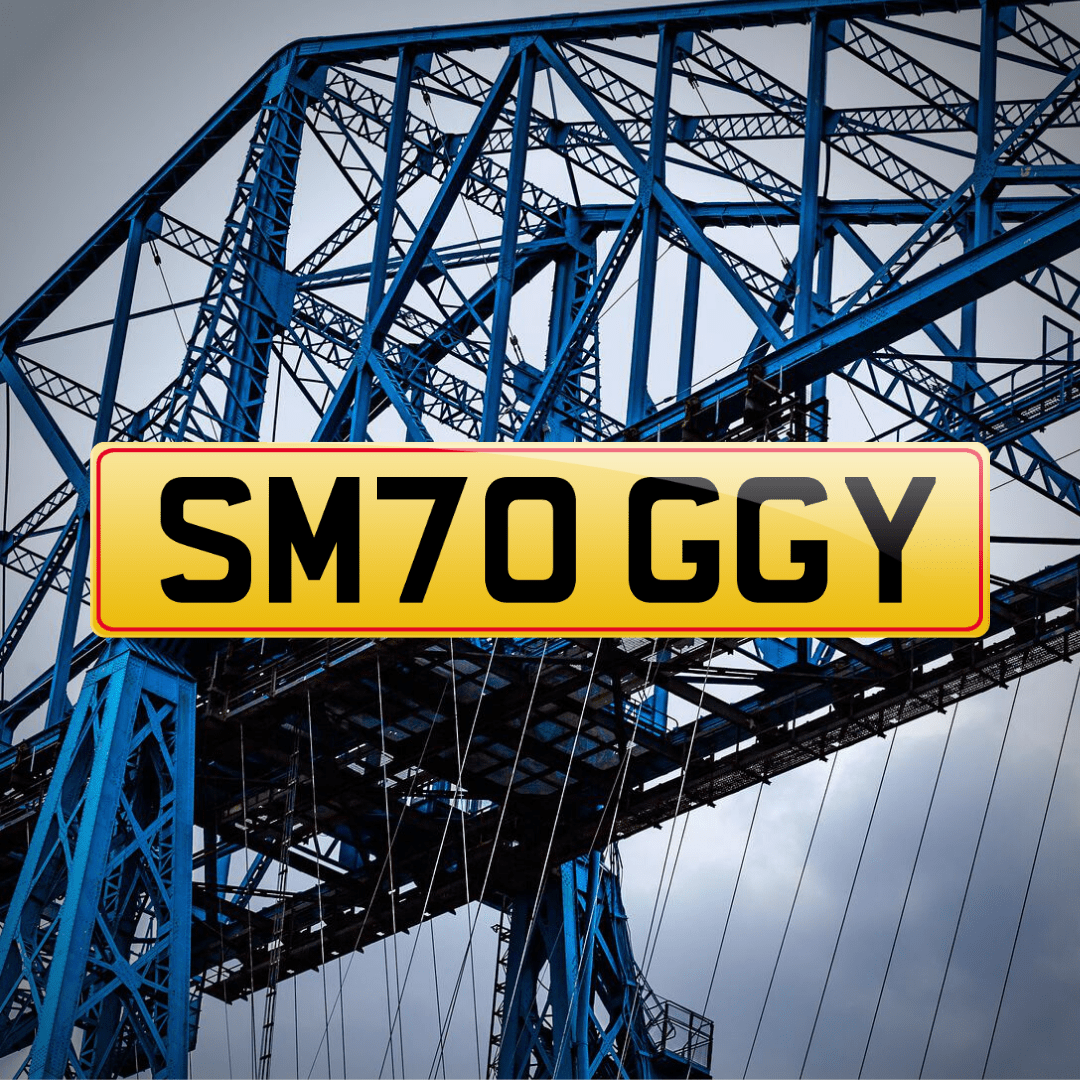 Another brilliant Smoggy plate next in the form of SM70 GGY.
This one is available for £1,999 with finance options available, and you can proudly show off just how much of a Smoggy you are with one of the best Teesside number plates you're likely to find. It's also the cheapest you'll find this plate because like with every registration on this list, we have exclusive rights to it at National Numbers.
Take a look at SM70 GGY on our website, or call our sales team on 01642 363738 for more information and options.
MY18 ORO
You are my Boro, my only Boro, you make me happy when skies are grey.
Etc.
Show off how much you live and breathe Middlesbrough FC by purchasing MY18 ORO for your vehicle. You might even inspire a singalong on the A66 as you approach The Riverside Stadium with this one, as it's integral to one of the oldest and most popular chants you're likely to hear from the Boro faithful.
Available for £2,999 with finance options available, you can buy MY18 ORO online today or by calling our sales team on 01642 363738.
BO20 UTB
And finally, numero uno on the top ten Teesside number plates list… BO20 UTB.
Combining the now famous UTB with the impeccably spelled BO20, you'll struggle to find a better Teesside or Middlesbrough number plate. That's why we stock it exclusively at National Numbers, and it's why you won't find it cheaper anywhere else.
Available for £1,999, the best Teesside number plate is also one of the cheapest on the list, and you can buy it online at our website. Alternatively, give our sales team a ring on 01642 363738 for more information on how to make a purchase.
Buy a number plate online today with National Numbers.
So, there you have it, the top ten Teesside number plates you're likely to find in the UK.
If we've missed any, or if you want a number plate that has nothing to do with Boro (for some reason), you can visit our website and choose from over 63 million number plate combinations.
With finance options to spread the cost and private number plates to suit all budgets, we're here to help you find your perfect private number plate. Take a look at our website and search for yours today, or call our magnificent sales team on 01642 363738.