Christmas is just around the corner, and National Numbers has the perfect gift for that special someone in your life.
Of course, we're talking about a private number plate, and today's blog is dedicated to buying a private number plate as a Christmas gift. We'll discuss how to do it in time for the big man coming down the chimney, the basic private number plate buying process, and everything you need to know about buying a private number plate during the festive period.
Let's start with an overview of the number plate buying process.
The private number plate buying process.
It all starts with a number plate search, which you can do by using the number plate search tool on our website or by giving our sales team a call on 01642 363738.
Your search can be as simple as typing in a name, initials, or letter combination that means something to the person you're buying a private registration for, and the website will do the rest.
As well as calculating the perfect number plate combinations for you and churning out a handy list of reg, you can also sort your list of private registrations by price, and filter by number plate format (prefix reg, suffix reg, current style and dateless reg, Northern Irish reg, and more). This makes the entire process of buying a private number plate as simple and stress-free as possible, as it should be.
Paying for your private number plate and buying acrylic number plates.
Once you've selected your private registration, it's time for payment.
We offer secure payments which include debit cards and credit cards, and we're also registered with the Financial Conduct Authority which means all payments are safe and secured.
During the checkout process, you can also buy acrylic number plates from our parent company, Jepson & Co Ltd, who are the oldest number plate manufacturer in the UK. They have over 100 years-experience and an incredible reputation for the physical number plates they manufacture and all their reg plates are road legal and adhere to British standards.
Transferring a number plate and assigning your reg to a vehicle (or not).
Next up is the number plate transfer. Transferring a private number plate is just another way of saying putting a registration onto a vehicle, and our team of number plate experts can help with this, or you can use the DVLA Number Plate Transfer Service.
You can also visit our number plate transfer process FAQ page for more information regarding number plate transfers.
Once the private reg transfer is complete, you'll receive a new logbook from the DVLA. This is when you can put your new number plates onto your vehicle, or the vehicle of the person you're buying them for.
Alert your insurance company once the private reg has been assigned and you're ready to go!
Many private number plates are available as retention certificates, so buying one of these as a gift – without assigning the registration mark to a car – means you can hand it over without spoiling any surprise. These are also a great idea when buying number plates for somebody who hasn't passed their driving test yet, or for somebody who is in between cars but would love a personalised reg.
For more information about transferring a private registration, speak to our team of number plate experts on 01642 363738.
Where do I buy a private number plate for Christmas?
As you can see, the process of private number plate buying is very simple, but only when you use a trusted number plate supplier like National Numbers.
We've got over 40 years' worth of experience which makes us one of the oldest and best recognised resellers of DVLA registrations, and we can help you every step of the personalised registration plate buying process.
That's why we're the best place to buy a number plate in time for Christmas.
Search for your perfect private number plate here.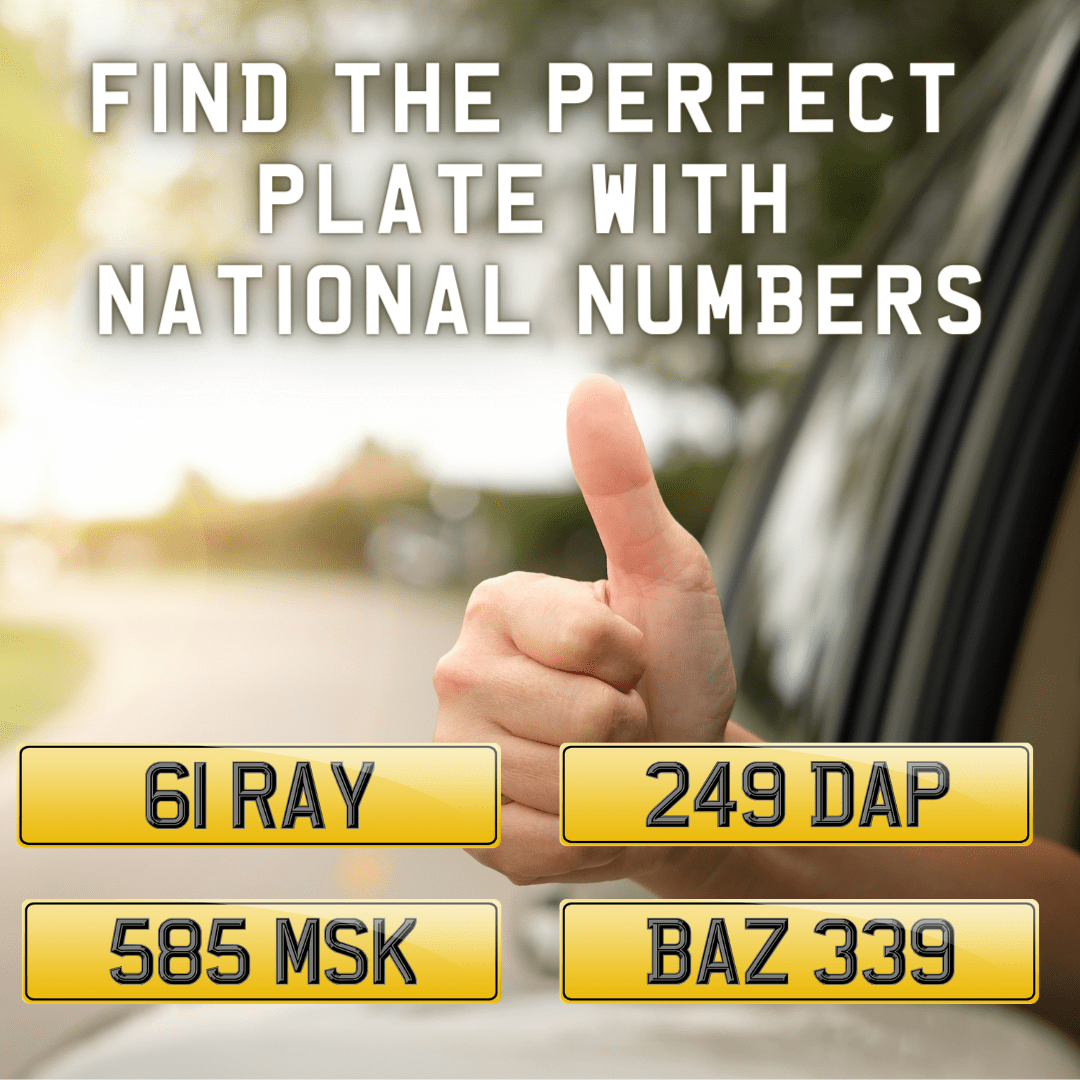 Ordering private registrations in time for Christmas.
As you can see, the process for buying a private number plate for Christmas is super simple and our team make it stress-free and straight-forward. However, you do need to be aware of turnaround times from the DVLA and Royal Mail, particularly in December.
Processing times for private registration ordering is generally between one and five weeks from buying your new number plates, but delays can happen with Royal Mail around Christmas time, as you might expect.
That's why it's best to buy private number plates as soon as possible if you're hoping to get sorted in time for Christmas.
Examples of private number plates as Christmas gifts.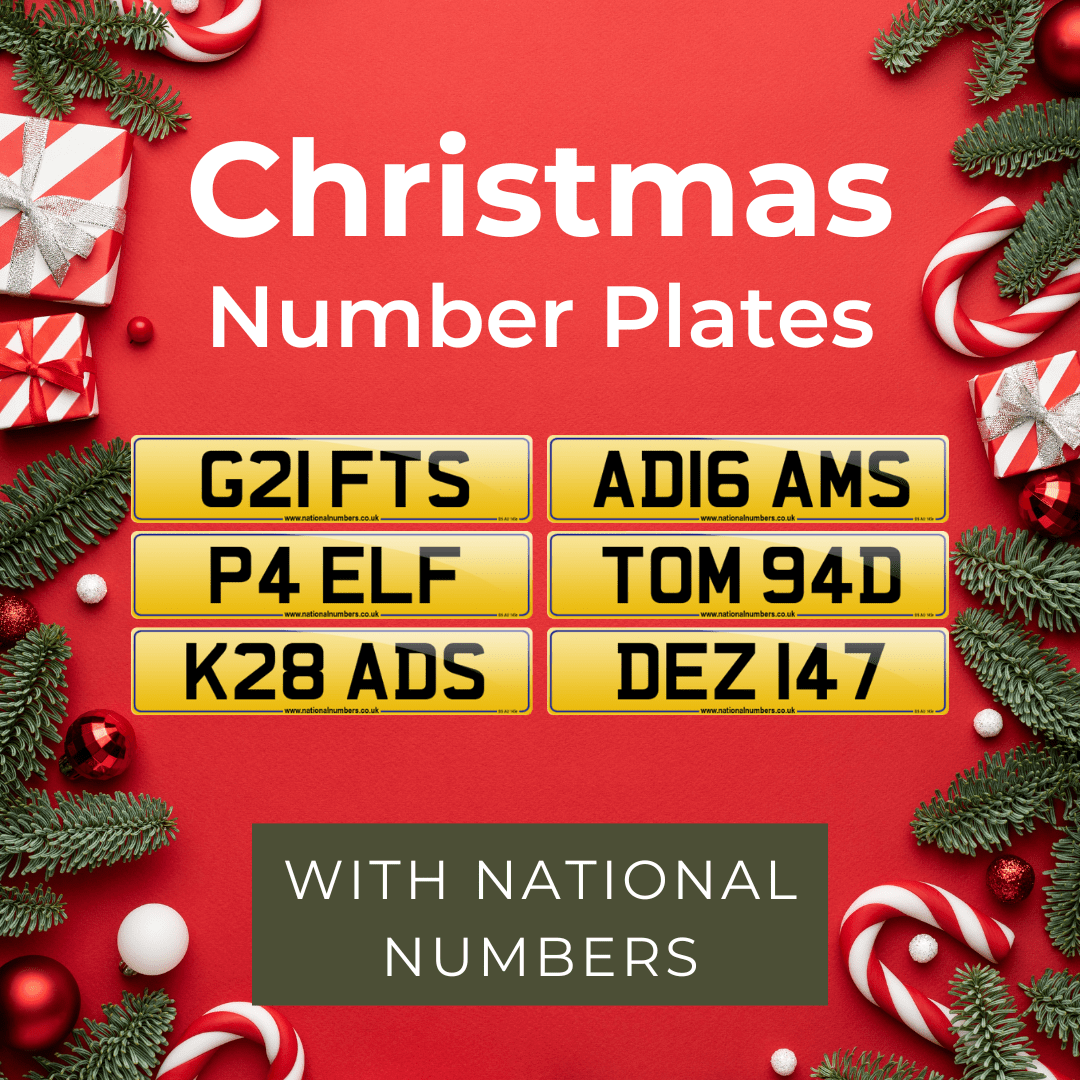 Of course, the amount of combinations in the world for names, initials, and so on are incredibly high, but examples of private registrations that work great as gifts include:
Generally, these are a combination of a person's initials, utilising the middle name to create three letters or skipping that and going for a dateless registration that only has two letters.
If you have a short name, or one that can be written whilst still adhering to British standards for number plates, name number plates are an excellent idea for a private registration gift.
Adam private registrations are popular because you can get creative with such a small word, and you can also shorten it for some fantastic ADZ or ADS number plates. Then you have the likes of TOM number plates, DEZ private registrations, and more three letter names. Search for your perfect name plate here, or call our sales team on 01642 363738 for more options.
Number plates for your parents.
DAD private number plates are incredibly popular all year round, as are MUM and MAM number plates, but even more so around Christmas time as they make a brilliant gift.
Business private registrations.
If you're buying for a business owner, then a private reg can be the perfect gift this Christmas. It can include the business name, initials, or something else that speaks about the business entirely, and we have lots of options available.
And that's just the tip of the iceberg! There are loads of number plate combinations out there and number plate gift ideas in abundance when you choose National Numbers.
Buy a private number plate for Christmas.
Speak to our friendly sales team on 01642 363738 for more information about private number plate buying, or browse our range of private registrations at our website.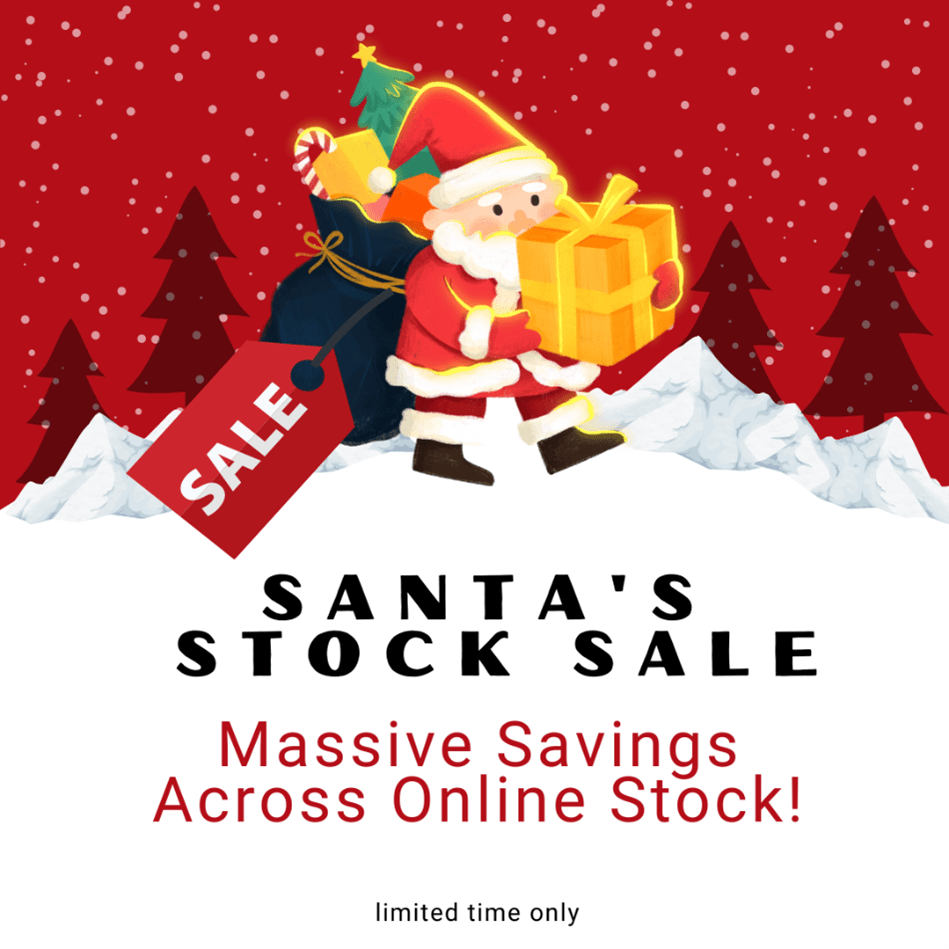 Right now we also have our Christmas sale online, with lots of private registrations available for a bargain in time for Christmas. Take a look at our private number plate sale here.