The 24 series number plate release is on the horizon, but are you ready for it?
Today, we'll run through everything you need to know about the upcoming reg release. From road-legal number plate formats to inspiration around choosing a 24 series number plate, not to mention invaluable tips on how to secure yours when the time comes, we've got you covered.
Basically, we'll give you a full-blown run down so you're fully prepared and ready to secure the perfect private registration.
Let's kick things off with some inspiration.
24 series number plate series ideas.
The 24 series registration release offers a range of fantastic options for number plate purchases.
This is primarily because the 2 is an effective substitute for the letter "R", and the 4 is a common way of spelling a word that contains the letter "A". The two numbers are also pretty similar in shape, so they can be used to spell a word using the letters of the number plate only, with the number digits essentially blending in to the word.
Still unclear? Take a look at some examples below for some inspiration.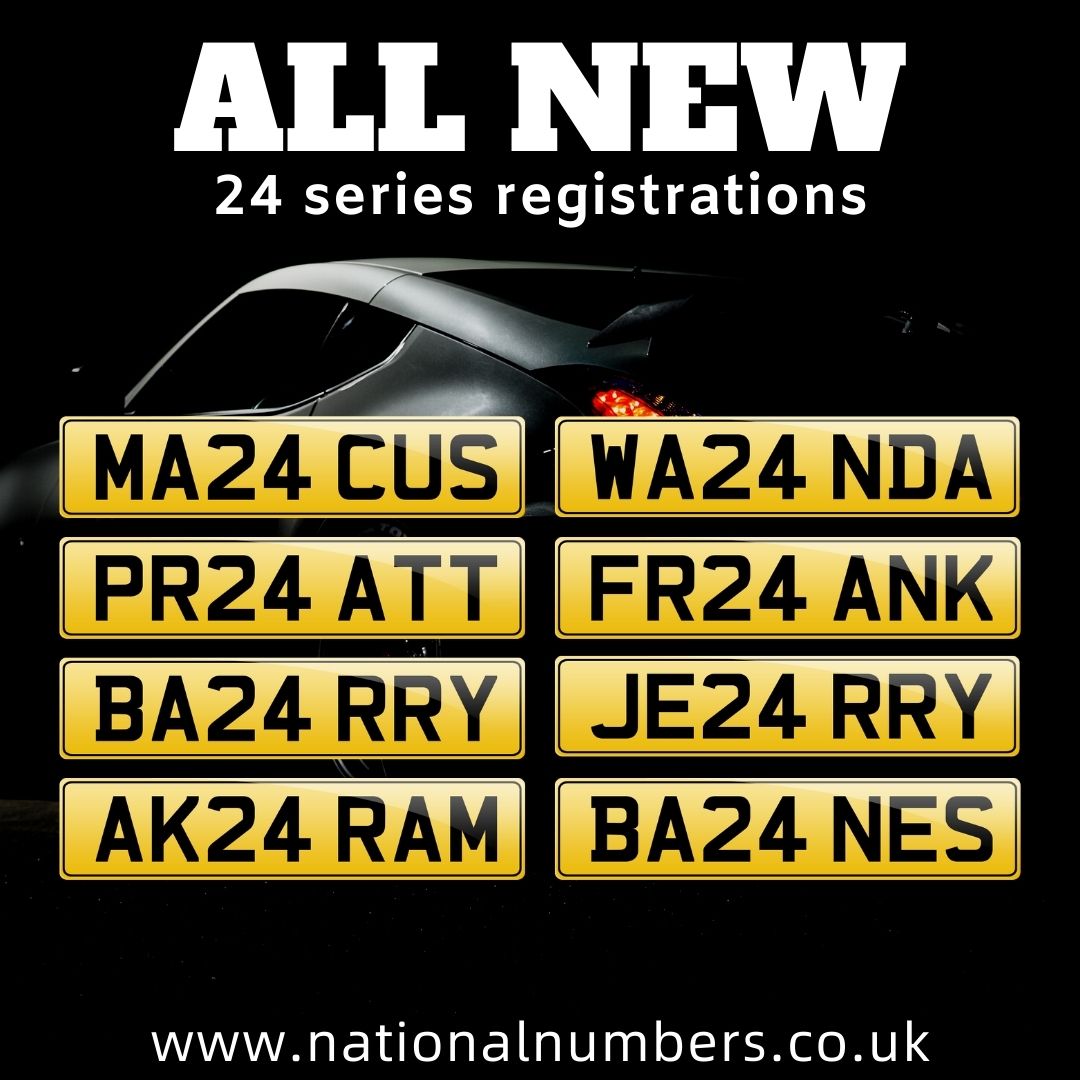 Not in the market for a name plate? No worries. There are private registrations that have nothing to do with names at all, like Farmer, which you can see below.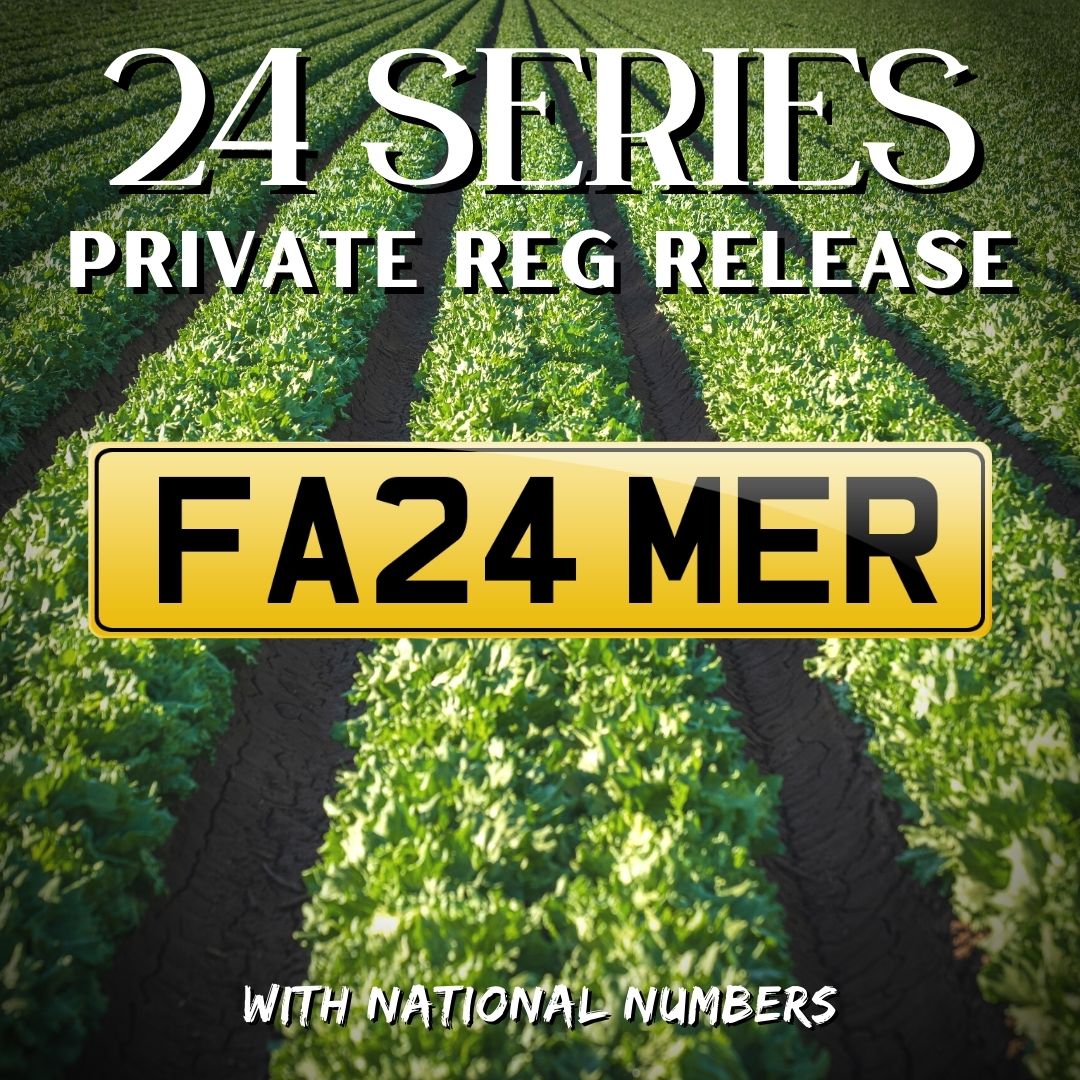 Maybe you're a Lotus fanatic or owner and LO24 TUS could be the perfect private reg for you. Or, if you're a bit of a weird one or just a fan of Marvel superheroes, ST24 NGE is a fantastic, personalised plate option.
Explore some of the 24 series number plates you can secure below.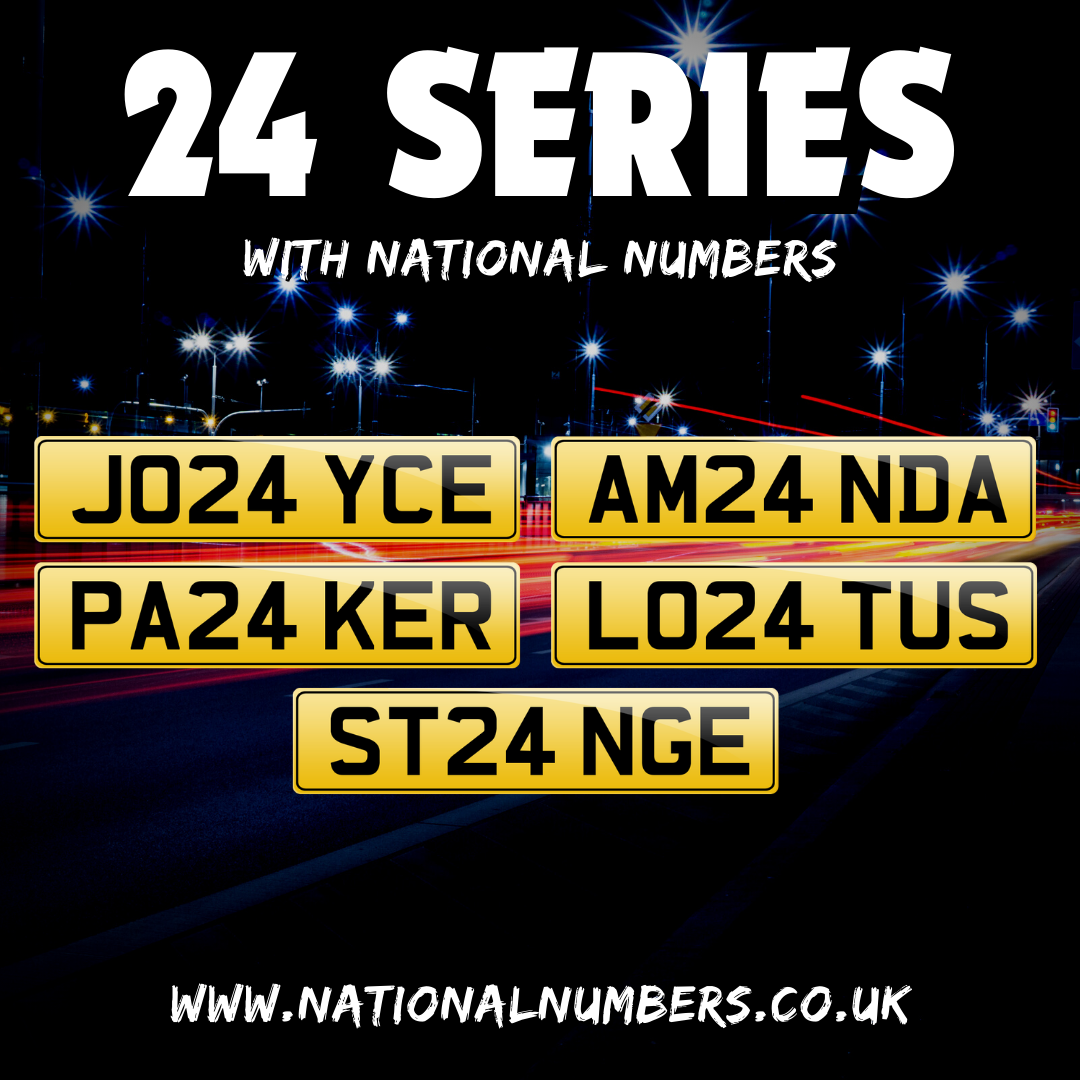 And click here to register interest in a 24 series private number plate.
How do you buy a 24 series private registration?
The 24 series millennium registration release will mark the introduction of millions of new reg combinations onto UK roads. Over 8,000,000 in fact, which is a heck of a lot of plates.
This might sound a bit daunting, so to make sure you secure yours, the best thing you can do is register interest in a 24 series number plate with National Numbers.
We've been buying and selling private number plates for over 40 years now, and our success rate speaks for itself when purchasing new releases. For some context around our capabilities, our team have fulfilled 98% of orders made by customers since the early 80s, which says it all, really.
How do you choose a 24 series number plat?
If you aren't show what kind of number plate you'd like from the 24 series release, you can build your own 24 number plate here. This nifty piece of tech lets you get creative and see which combinations look the part before committing to anything.
Then, once you've made a decision on a 24 series number plate you like the look of, you can register your interest and we will go through the process of securing it for you.
And if you aren't much of a computer-person, you can also call our sales team on 01642 363738 and do things that way. Our people are friendly and experienced, and can guide you through the entire process of securing a 24 series number plate with ease.
How much does a 24 series number plate cost?
How long's a piece of string? It's hard to give a concrete answer to this question, especially with over 8,000,000 number plates being released at once.
However, if you give us a call on 01642 363738, we can give you an idea about pricing for specific registrations. Not only this, but we can also help you secure the perfect private plate from the upcoming release.
We're also able to talk you through our huge range of finance options available on private registrations, and we're pretty confident in our ability to find you a plate that suits your tastes and your budget.
For inspiration regarding your 24 series number plate, you can build your own 24 series reg here.
What are the rules for new number plates?
There are lots of guidelines around the displaying of your physical number plates, and we've explored regulations of private registrations in our recent blog.
However, one key rule to be aware of is that when you buy a new number plate, you can't put it on an old vehicle. Basically, the rule is that you can't make a car look newer than it is with the age identifier of a number plate.
To drill down on the specifics, you can't put a 24 series millennium registration on a vehicle manufactured before March 2024. This, as you know, is in the future, so if you're buying a private registration for a vehicle that you don't own yet, you can buy a number plate on retention and then transfer it onto your vehicle once you have it in your possession.
Find out more about buying a number plate on retention in our DVLA Guide and visit our website for information regarding the transfer of a private reg from certificate to vehicle.
Register your interest in a 24 series private number plate.
If you're in the market for a brand new personalised registration, look no further than National Numbers. We've been in the industry since 1983, have been buying personalised registrations since the very first A series number plates, and our team know all there is to know about securing private registrations for our customers.
With a 98% success rate, an "Excellent" rating on Trustpilot from over 4,000 reviews, and bags of passion about all-things private registrations, give our sales team a call on 01642 363738 today to secure your 24 series personalised reg.
Alternatively, you can register interest in a 24 series number plate at our website.