It has happened. Jeremy Clarkson has been suspended by BBC after another controversy. This time the 54 year-old host of Top Gear has got himself in bother after allegedly punching one of the show's producers. As a result the remaining episodes of the current series of Top Gear will not be shown, but the fans are having none of it. Upon last glance a petition to reinstate the embattled presenter had reached an amazing 350,000. [UPDATE: Signatures are reaching 850,000]
Clarkson certainly does divide the public but surely after so many final warnings the BBC cannot waver now? Will this be the straw that broke the channel's back?
Here is a run through of all of Jeremy Clarkson's Top Gear controversies. Decide for yourself whether you think Clarkson has pushed the envelope too far, or if he is just a greatly misunderstood entertainer.
How Jeremy Clarkson is Breaking Beeb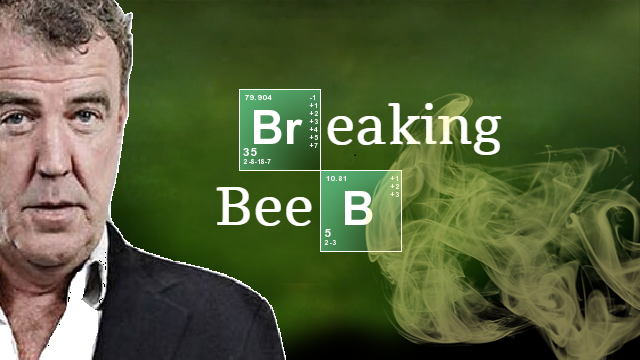 November, 2003 - BBC Pays £250 After Jeremy Clarkson's First Stunt
During an episode of Top Gear, Clarkson attempted to demonstrate the strength of a Toyota Hilux by driving it into a tree. Unfortunately it was a 30-year-old horse-chestnut tree that was valued by the local Somerset community. By February 2004 the BBC had apologised for the incident and had paid £250 to the parish in compensation.
November, 2005 - Don't Mention The War
During a discussion about the design of the Mini a comment was made about it being "quintessentially German". This was Jeremy Clarkson's cue to lead a mock Nazi salute as well as other references to the Nazi regime in poor taste. For good measure he even set the satnav to Poland.
July, 2006 - Clarkson Under Fire Again For Homophobic Slang
When discussing the Daihatsu Copen in the studio Clarkson used the phrase "ginger beer", which is rhyming slang of "queer", in response to an audience statement about the vehicle being "a bit gay". Only four people complained about this, but it is one that BBC upheld and apologised for.
February, 2007 - Beating The Dead Cow
Jeremy Clarkson makes an enemy out of vegetarian viewers during the US special after driving with a dead cow strapped to the roof of the vehicle. He then slammed the beef carcass to the ground by applying the brakes.
July, 2007 - Drink Driving Jibe Leaves BBC Out In The Cold
During Top Gear's Polar Special, Jeremy Clarkson drove over international frozen waters and made the comment that he wasn't drink driving because technically he was "sailing". Clarkson was accused of glamorising drink driving and BBC said the scene itself was not "editorially justified". Jeremy Clarkson would like to remind us he was outside the jurisdiction of any drink driving laws though.
November, 2008 - LorryGate
In his most controversial incident yet, Jeremy Clarkson made a comment on his show about lorry drivers murdering prostitutes. Two years earlier in Ipswich, five prostitutes had been murdered. Perhaps it is unfair to judge without context, so the full quote goes as follows: "Change gear, change gear, check mirror, murder a prostitute, change gear, change gear, murder. That's a lot of effort in a day." Obviously, Clarkson's comment was seen in bad taste and netted the presenter over 1,000 complaints and the first call for him to be sacked.
July, 2010 - Another Homophobic Comment
In a comment that did not make it to air, Clarkson said that he "Demanded the right not to get bummed" in an interview with Alistair Campbell on Top Gear. Of course the comment was cut because Jeremy Clarkson deeply regretted the comment ... nope, he went on to say it was just cut because the interview was too long.
August, 2010 - Alienates The Disabled Community
With further tactless and inconsiderate comments, Jeremy Clarkson referred to co-presenter James May's Ferrari F430 "special needs" and "simpleton". Ofcom received a number of complaints but amazingly Clarkson got away with it.
December, 2010 - Mexico's Most Wanted
The Mexican ambassador said comments made by Jeremy Clarkson were "outrageous, vulgar and inexcusable" after the presenter described Mexicans as "lazy, feckless and flatulent". He even said Mexican food was "refried sick".
February, 2011 - Because It Worked So Well The First Time
During a segment the hosts pretended they had been sent to Albania to test cars for a mafia boss and attempted to fit overweight "murder" victims into the boots of their cars. Top Gear and Jeremy Clarkson received hundreds of complaints in response, probably because it seemed like a blatant attempt to play off previous controversy.
January, 2012 - Christmas Spirit
During the Top Gear Christmas Special, Clarkson and Crew made numerous digs at Indian culture, food, dress, trains, toilets and people. The Indian High Commission called the jokes "tasteless" and lodged a formal complaint.
February, 2012 - Grotesque
Jeremy Clarkson followed up by annoying facial disfigurement charity, Changing Faces, by comparing a Japanese camper van to a person with a growth on their face.
March, 2014 - Down Hill From Here
During the Top Gear Burma Special, Clarkson made the following comment to fellow presenter, Richard Hammond, about a wooden bridge they had built: "That is a proud moment, but there's a slope on it." Jeremy Clarkson made this comment as a native of Burma crossed the bridge. BBC claimed it was a light-hearted comment referencing the quality of the bridge, though viewers noted that it was clearly an offensive jab at the local Asian male on screen. BBC later said they did not realise the word "slope" was considered offensive.
May, 2014 - Pushing The Boundaries
Clarkson's biggest controversy today came after the Daily Mirror unearthed unused footage from a 2013 episode in which Jeremy Clarkson appeared to is the "N word". The racial slur stirred up prompt reaction as the presenter was chastised for the act, as well as the shameless attempt to deny it. He later apologised and was given his final warning by BBC.
October, 2014 - NumberPlateGate
Next, Jeremy Clarkson almost caused an international incident after he and the entire Top Gear crew was chased out of Argentina while filming the Patagonia Special. The reason was blamed on a number plate, H982 FKL, which locals believed to be in reference to the Falklands War in 1982. BBC and Top Gear staff, including Clarkson, have defended the controversy as a coincidence, despite claims to the contrary by the Argentinian Government. Of course, the "final warning" isn't considered violated at this point.