Being a number plate dealer, we get all sorts of requests for personalised registrations. Whether it's names, initials, favourite football teams or a private reg for a business, we've seen it all.
We've also seen our fair share of funny number plate requests, so have decided to take a deep dive into the funniest registrations ever spotted on UK roads, as a bit of light relief from all that's going on the world at the moment.
Just some light-hearted fun, but if you're easily offended, you might want to look away now! Or even better, search for your very own non-rude or funny number plates at this link, or even take a look at some of other banned number plates from previous releases, here.

FIJK U
"But officer, it doesn't actually say anything rude, it says fijk!"
There are lots of examples of number plates being selected based on how similar they look to certain words, rather than being an exact match, and this is one of the most disrespectful we've seen.
While to the more innocent among us it looks like a Danish or Dutch word perhaps, most of us see a bit of profanity.
This one was spotted on a BMW in 2017 and it doesn't exactly do much to dispel the old stereotype of BMW drivers not being the most-polite drivers on the roads!
PO04 MAD
Something stinks around here…
PO04 MAD is one of the worst, yet funniest number plates ever spotted in the UK, and was found on a Mercedes way back in 2007.
We're not sure what the goal of this reg was. Was the owner telling us about one of his passions? Or maybe they had some issues with IBS.
Either way, it's a pretty ridiculous number plate to put on your car, and definitely one of the silliest and funniest we've seen.
PEN 15
Again, is this an advertisement of how the driver behaves on the road, or in general life? Maybe it's a declaration of love, or maybe it's just a bit of fun.
Either way, it's very silly, very immature, and quite rude to be honest, but all in all it's definitely a worthy inclusion of any top funny number plate list.
It was also named as the rudest plate to ever be actually released by the DVLA, who have a history of keeping certain reg to themselves and not allowing them to be issued on either retention certificates or onto vehicles.
Somehow, this one slipped through the net.
U T02SER
While this one was definitely intended to be aimed at other drivers and other people, we can bet that when most motorists saw this, it mirrored exactly what they thought of the person driving the car it was on.
No real explanation needed here, it's just some good old fashioned profanity disguised by a number plate! It's also incorrectly spaced and really should read like UT02 SER, so it probably didn't last long on the roads to be honest, especially if a policeman was stuck behind it at a set of traffic lights.
It was a Lamborghini by the way which hasn't been on the roads since 2008, so it's either got the plate and car in hiding or it's been scrapped.
BO11 LUX
This one was purchased by a Mr Alan Clarke, an entrepreneur based in Chesterfield who was extremely happy with his profanity-laden number plate, of which he purchased directly from the DVLA.
However, his joy didn't last long, as after he paid for and registered this reg, he was told by the DVLA that it was actually a mistake and it had to be taken away from poor Alan, much to his dismay.
What a load of BO11 LUX!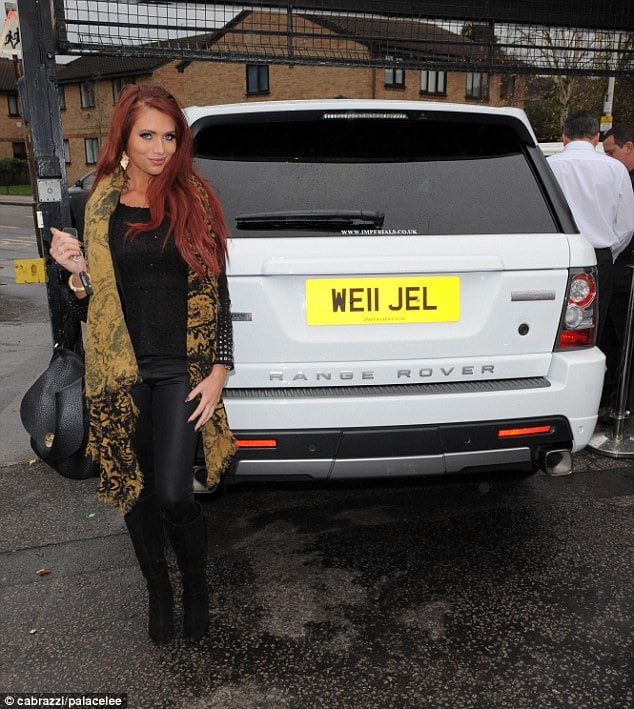 WE11 JEL
Remember The Only Way Is Essex? No? Lucky you.
"Well jel" was a phrase popularised by the stars of The Only Way Is Essex, which means well jealous, as in, very jealous.
This reg was purchased by one of those very stars of the show Amy Childs, who had it for her white range rover and looked particularly pleased with herself over her purchase, getting snapped for national and local newspapers shortly after making her purchase.
Poor Amy actually ended up flipping the Range Rover with the famous reg on it.
P54 CHO
This is not only funny, but to be honest, quite scary!
Hopefully, it's more of a joke than an accurate depiction of the driver. If so, you might want to avoid aggravating the Jaguar this was spotted on back in 2017. You certainly wouldn't want to beep or show any road rage to this driver, as you may live to regret it.
Maybe it was Patrick Bateman or the actor who played him, Christian Bale. He's Welsh born and has lived most of his life in England after all, so not entirely out of the realms of possibility. Although, to be honest, it's pretty unlikely.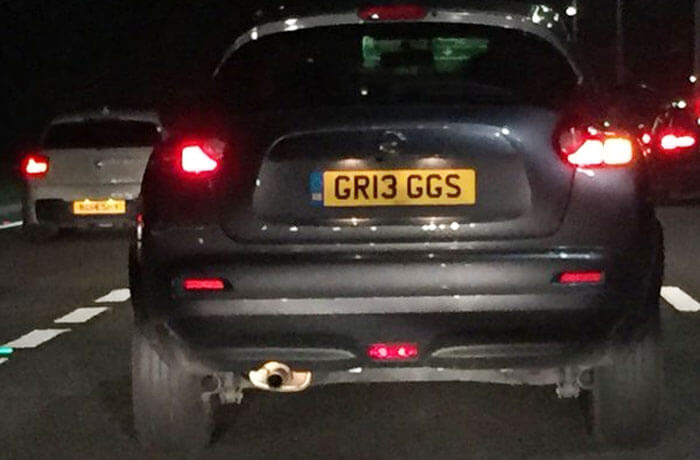 GR13 GGS
We really, really hope that this is a person showing his love of the beloved pastry gods of Greggs, rather than a plain old guy called Gregg.
We don't have any info to back it up, but let's just pretend that this was definitely a sausage roll merchant who just can't get enough of that pastry goodness.
So much so that he simply had to get himself what could be considered the best bit of free advertising Greggs are likely to receive!
UG04 POO
Another faeces-related number plate (never thought we'd be typing that to be honest), is UG04 POO, spotted back in 2017 on another Range Rover.
There tends to be a trend between Range Rover drivers and awful number plates, perhaps this requires more research, but then again, probably not.
The driver couldn't be contacted for comment on whether this was a friendly reminder for drivers on long journeys or simply a hilarious use of the word "poo", but either way, the child in us had a good little laugh at it, as I'm sure many motorists on the roads have done since seeing it on the Rangey.
MR54 NTA
Christmas is just around the corner, especially for this driver who invokes Christmas cheer all year round with this splendid Santa-related registration.
Maybe it's Santa himself, but the fact it was spotted on a Mercedes SLK in England rather than a flying sleigh in the North Pole, it was probably just someone who really, really loves Christmas.
And why not! Well, because it's silly, that's why. Imagine rocking around in this in the middle of June? You'd get some very strange looks, but then again, you're guaranteed to get very strange looks with this plate, no matter the time of year.
It also definitely wasn't Santa because it was illegally spaced and actually appeared like MR 54NTA, we can only assume the police didn't ever realise or maybe they let him off for putting them on the good boy list that year. Who knows.
SK11 NNT
This poor number plate was spotted on a Seat Leon a few years ago and is a bit less offensive than some others that have made the grade.
Compared to the BMWs and Lamborghinis that most of these funny plates were spotted on, a Seat Leon is a slight downgrade, so while we're sure they aren't that worse for wear financially, maybe it is quite relevant to the driver.
In fact, should really set up a GoFundMe for the poor driver to get himself a nicer reg and perhaps, a nicer car.
CU11 NNT
This incredibly offensive plate made the rounds in 2017, getting press coverage everywhere from UniLAD to The Mirror, with the owner proudly standing in front of his car emblazoned with the word most folk twitch when it's mentioned.
Somehow, it didn't get banned from the DVLA, although it would stand little chance of being released today as they are much stricter on cracking down on rude and offensive plates.
It was on sale for a whopping £6,000 back in 2017, and the driver can probably best be described using one word.
We'll let you decide what that word is.
K1 NKY
This cheeky little number (plate) was spotted on a Nissan Leaf and definitely belonged to someone with a sassy side!
This definitely caused a few laughs at traffic lights and junctions up and down the land and is one of the best spelled funny number plates we've ever seen.
No need for illegal number plate spacing with this one as it requires very little imagination to work out what it's supposed to say.
---
Find Your Own Funny Number Plate with National Numbers
So, have these inspired you to make your own stamp on the world of registrations with a quirky, funny, or darn right rude number plate?
Take a look at our range of funny number plates at this link, or get in touch with our sales team on 01642 363738 to find a perfect funny number plate for you, whatever your requirements or budget.
Our team are more than happy to provide all the advice you need, and we even offer 0% finance across the vast majority of our number plates.